Fancy the idea of betting online without spending any real money? Then IndiaBet is the site for you! Read about how the platform works, the best games it offers, and how you can win prizes in our comprehensive review below. Alternatively, if you'd prefer to play for real money, take a look at our 10Cric review to find out more.
---
About IndiaBet
There are many websites that you can use to bet on your favourite sporting events or casino games. However, IndiaBet brings something new to the table that might make it appealing to a broader audience.
What Makes IndiaBet Unique?
At IndiaBet, you can play slots for as long you want or place live bets on high odds on your favourite sporting events for free. All transactions are made using a virtual currency called India Bet Rupees (IBR) that does not require you to deposit any of your actual money.
The website gives you 500 IBR for simply signing up, and every day, you can increase your IBR by completing specific tasks like playing a mini-game or changing your avatar. This ensures that you'll never actually end up running out of IBR.
The IBR you make can be redeemed to earn tickets for prize draws, where you can get in with a chance to win mobile phones and more.
Is IndiaBet Safe?
IndiaBet is entirely safe to use as the website doesn't ask you to give any sensitive data other than your email address. If you happen to win in a prize draw, you will be prompted to provide your real name and delivery address in order to receive the reward.
There's no need to worry about stray deposits or withdrawal transactions. No real money will ever be required to bet on games and events or to continue playing on the site after you finish your daily quota of IBR.
---
Top Games on IndiaBet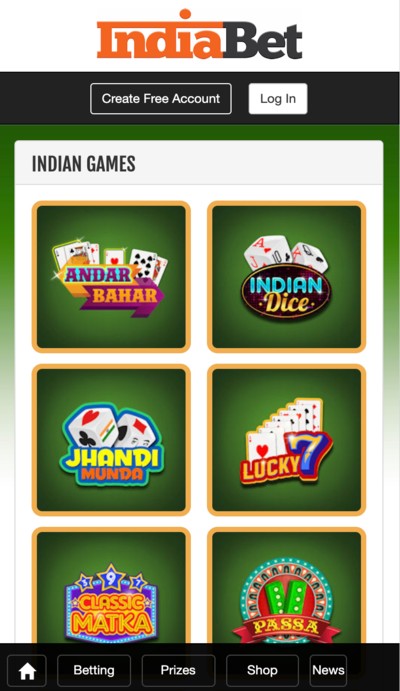 Although IndiaBet has a limited selection, they include popular games you would find on most casino websites. Below is a list of the top titles available on the platform:
Casino Games
IndiaBet's portfolio includes games such as blackjack, roulette, and video poker. You'll also be able to play Indian favourites like Andar Bahar, Jhandi Munda, Teen Patti, and Lucky 7!
Along with the above, there's also a daily Wheel of Fortune.
Lottery Games
Are you a fan of lottery games? Then we've got some good news for you: IndiaBet offers their own version of Matka, a widely known game in India. There are two sets of three numbers drawn in an hour, and you get to bet either on predicting the numbers or the last digit from the sum of the numbers.
The platform also provides a "How to Play" guide for every game, clearly outlining all the rules so you get a full understanding of how everything works before you go ahead and play.
Virtual Games
Betting on real-life sporting events can be fun; however, since these bets are subject to the occurrence of an actual match, there are times when you won't have any games to bet on, especially during off-season periods. This is where virtual games come in.
IndiaBet offers users the option to bet on virtual cricket and horse racing, where the results are computer-generated and updated every few seconds. You can bet on all the betting markets you would in a live match while also enjoying a live cricket commentary, accurately capturing the anticipation of a real-life game.
Additionally, the website offers cricket and soccer mini-games where you place a wager of any amount and click to get a randomly generated result. These games are almost entirely based on luck and chance due to their virtual nature, but they are a great way to earn some IBR quickly.
Sports Betting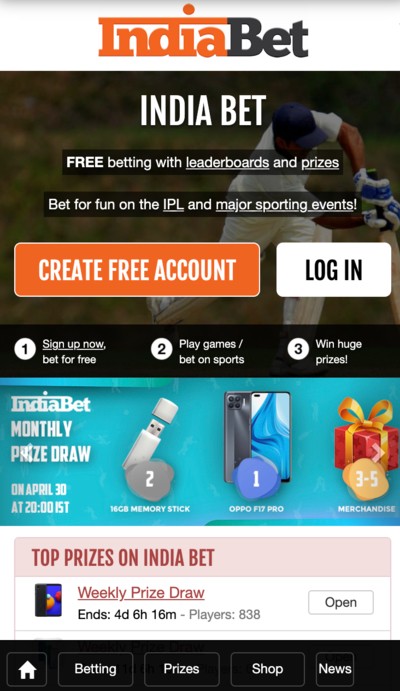 IndiaBet allows you to bet on multiple popular sports such as cricket, soccer, horse racing, and tennis, as well as a few niche sports like the NHL, motor sports, and esports tournaments based on video games like DOTA 2. You can also place live bets on most of these markets.
---
How To Place Bets at IndiaBet
The betting process on this platform works like that of any other online bookmaker, except that you won't be using any real funds. Instead, you'll be using IndiaBet's virtual currency: IBR.
Payments at IndiaBet
India Bet Rupees, or IBR for short, is the only mode of payment on the website. You can bet a certain amount of IBR on a casino game or sports event, and you will be rewarded according to the odds on which you have wagered.
Example: Let's say that you can bet up to 250 IBR in a game of blackjack – your winnings will vary depending on how the game plays out, just as if you were using actual Indian rupees. If you were to bet 100 IBR, a push would get you the exact 100 IBR back, a straight win would get you 190 IBR, and a blackjack win would get you 225 IBR.
In a sports game, like a cricket match, for instance, you can choose from a variety of markets that have a calculated set of low and high odds.
The IBR you win or lose will immediately appear in your account, so you won't have to worry about any delays. Since there is no tangible value to IBR, the website rewards you for playing for as long as you can.
---
How Does IndiaBet Reward Customers?
The website has a star system that is used to reward its players. In most cases, you gain one star for betting 100 IBR on a game. These stars can be traded for tickets to a prize draw held by the platform, with the cost of one ticket being one star.
The number of stars you earn depends on the odds you bet on. If you bet on anything at odds of below 2.00, you will receive fewer stars than the norm, according to the sliding scale below:
| | | |
| --- | --- | --- |
| Bet | Odds | Stars |
| 1,000 | 2.00 | 10 |
| 1,000 | 1.9 | 9 |
| 1,000 | 1.6 | 6 |
| 1,000 | 1.5 | 5 |
| 1,000 | 1.25 | 2.5 |
| 1,000 | 1.01 | 0.1 |
The rewards from the prize draw include key-chains, mugs, T-shirts, and even mobile phones. To show the legitimacy of these prizes, the website displays a list of the past winners of the draw that have claimed and received their rewards.
Players who run out of IBR can quickly receive a top-up by playing bonus games. Another option is to complete a few tasks on the website, like completing your user profile.
---
How to Sign Up To IndiaBet
The sign-up process on the website is quite simple and straightforward; however, you are required to be at least 18 years of age to register an account. We've prepared a guide below:
You'll get a pop-up that asks you about your betting interests when you open the website. Click on the "Join India Bet" button to start the sign-up process.
Enter the name you want to display on the website, your email, and a strong password.
Tick the "I am over 18" box and click on "Create Account."
You will then be sent a confirmation email, which you'll need to open and then and click on "Confirm your Account."
This will redirect you to the website, where you will be asked to log in.
You can immediately start betting after you enter your details on the IndiaBet login page.
If you happen to miss the pop-up that appears at the start, you can simply click the "Sign Up" button on the top-right to display it.
---
IndiaBet Customer Support
Customers looking for assistance can check out IndiaBet's detailed FAQ section that covers almost every relevant topic or common query. You can also find all the rules you need to know, from how the different games work to information about the level system on the website.
If you're still seeking a resolution to a specific issue, you can apply for a support request. Alternatively, you can send your question by post or to the email address found on their support page.
---
Is There an IndiaBet App?
IndiaBet has a mobile app that can be officially downloaded from the Google Play store for free on any Android device. However, since there are restrictions on betting-related content on Play Store, the app downloaded from this platform doesn't provide all the features that the desktop site has to offer.
To get the whole experience on your Android phone, follow the steps below:
Go to the official website through your phone's browser and tap on the "India Bet App" link at the bottom of the page.
Click on the "Download APK" button and follow the instructions on the page.
This shouldn't take more than a few minutes, after which you can enjoy all the features of the website.
With the .apk-downloaded app, you'll also get a 3000 IBR download bonus and a 500 IBR login bonus daily. If you're interested in real-money betting at other online bookmakers, the app also provides betting vouchers, which you can redeem on other betting sites as a substitute for cash.
---
IndiaBet Final Say
IndiaBet is an excellent way for beginners to try their luck at casino games and test out different betting markets on sporting events. It also perfectly captures the excitement of betting without the risk of losing actual money.
The reward system for playing games and betting greatly ups the site's unique fun factor, along with the weekly prize draws, which are similar to lotteries but are free and offer real prizes to be won. With an almost endless supply of IBR provided daily, there is always something to keep you entertained at IndiaBet!
---
Want to Play for Real Money Instead?
Even though IndiaBet has its own advantages, if you'd prefer receive winnings as real money, then we would recommend looking at the best 5 Indian casinos listed on our homepage, such as 10CRIC or 22Bet. These sites all accept Indian customers and allow you to bet using real Indian rupees.
Play Online Casino Games at 22Bet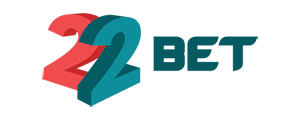 Get access to 300+ games
Indian Payment Methods
Low Minimum Deposit
---
IndiaBet FAQs
1. How do you place bets at IndiaBet?
IndiaBet operates using its own virtual currency called India Bet Rupees (IBR) instead of real money. After signing up, you'll receive a fixed amount of IBR to get started, and each day, your account is topped with more IBR so that you never run out.
2. Is IndiaBet a safe and trusted platform?
The website is entirely safe and legal, allowing customers to enjoy themselves with total peace of mind. You won't ever have to deposit or withdraw any real money on this site, meaning you won't have to worry about your finances ever being at risk.
3. Who is the owner of IndiaBet?
IndiaBet is currently owned by Sports Gaming Ltd, a company that provides information and management consultancy on sports-related issues.
4. Are there other sites like IndiaBet?
There are other sites that provide free-to-play betting, but if you're looking to bet real money on sports and games, try out other bookmaker like BETWINNER and Casumo.
5. Can you trade IBR for real money?
IBR is a virtual currency solely provided by the website to bet on games and sports. While your winnings can't be withdrawn as real cash, with enough IBR, you can enter draws that reward you with prizes like mobile phones.