A staple board game in India, chances are you either grew up with Ludo or still play it in your household. But did you know you can play this game in an online casino for real money? Our beginner's guide covers all you need to know about Ludo, so read on!
---
Top Ludo Online Casinos in India 2023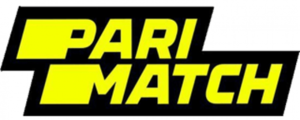 1.
Ludo Express available
Generous welcome bonus
Accepts Indian Rupees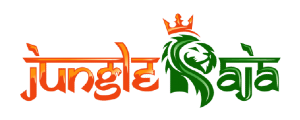 2.
Free play Ludo available
No deposit welcome offer
24/7 support

3.
Real money Ludo with multipliers
2,000+ games
Exclusive VIP club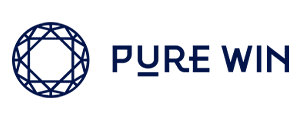 4.
Win up to10x bonus in Ludo
Accepts Hindi language
Secure payment methods
---
What Is Ludo?
While Ludo needs no introduction, to avoid leaving any stone unturned, it is a board game played with two to four players, with each person getting four similar-coloured tokens, either red, blue, green or yellow. The game's objective is to be the first player to get your four tokens to the 'home'.
One of the reasons Ludo is because of its simple rules and the fact that it is suitable for all ages, making it the perfect bonding game among family and friends.
---
History of Ludo
The first ever Ludo version can be traced back to India, and was called Pachisi! Other names that also refer to the same game are 'Chaupad' and 'Chausar'. According to historians, Pachisi was played in the 6th century in the epic Mahabharata; the Ellora Caves of Maharashtra even have engravings of the early Ludo game on them!
However, it was in 1896 that Alfred Collier introduced a modern version with a die cup and cubic dice that the game became known as 'Ludo.' Since then, it has been adopted by different countries and received other names like Chaupur in Akbar, Parchis in Spain, Fia in Sweden and Chatush Pada in China.
---
Elements of A Ludo Board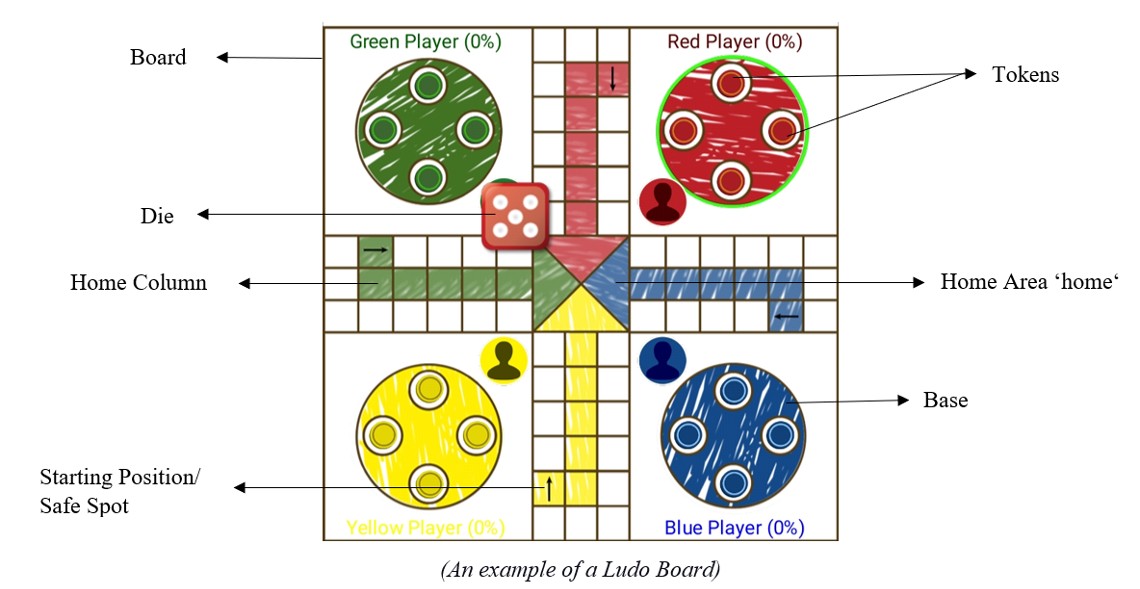 Board: The Ludo board comes as a square with what looks like a cross at the centre with small column boxes and four quadrants of different colours (green, red, blue and yellow).
Base: Each quadrant has a base where all your tokens are positioned before the game begins.
Tokens: These are your game pieces, and each player gets four of the same colour.
Die: For each round, players must roll the die (numbered one to six) to determine how many steps a token moves.
Starting Position/Safe Spots: This is where your token starts the journey to go around the board once it gets out of the base. It is also a safe spot, so your opponents can't knock you off the trail to your home base.  (Note that each colour has its starting position.)
Home Column: After your token has moved around the board, it proceeds to enter the same-coloured home column, where the final goal is to get the right die outcome to reach your home.
Home: This is where the journey ends, and once your token gets here, it is home. The goal of Ludo is to get all your game pieces to the home the fastest.
Even though there are several Ludo games with different boards, the elements above are common for most games.
---
What Makes Online Ludo Exciting?
While playing Ludo on a traditional, physical board is also fun, doing so online has additions that make it more exciting.
Some of the Perks of Playing Ludo Online Include:
Customisable themes:
When playing online, you can select the background displayed on the board — from Nature, Alien, Battle, Pirate or Egyptian themes, which makes the game more engaging.
Change your tokens:
Some versions of online Ludo allow you to change your game pieces from a plain and bland look to something more exciting, such as emoticons.
Check Stats:
You might be wondering what the importance of stats in Ludo is. Well, when playing for real money, they do come in handy. You can view the dice stats of other players and how many times they've won, which helps you understand your opponents better.
Play with friends in different locations:
Whether you have a pal in Maharashtra, Gujarat or Kerala, you can all join a private Ludo room and play against each other. All you need is a good internet connection.
---
How To Play Ludo Online
Playing this game is quite straightforward, your only challenge might be finding a Ludo online casino. Luckily, we've saved you all the trouble, so you can easily choose one from our list. However, there are many online Ludo sites and apps that you can download and start playing, and whether you play on an app or in a Ludo online casino, the steps are more or less the same.
So, here's how you get started with Ludo. The game begins by finding out who'll be the first to play. All players roll the die, and whoever has the highest outcome starts the game as it moves clockwise. To get your tokens out of your base, most versions require you to roll a six.
Once you do that, your token positions itself at the starting position and moves the steps indicated on the die after you roll. If you get another 6, you can choose to unlock another token and have two active tokens on the board. With every round you play, you'll select which token to move.
The aim of the game is to have all four of your tokens get to your home safely and fast. So, the player who gets all their tokens in their home first, wins.
Several things can happen as move your token around the board. If you land on a box which isn't a safe spot and there's an opponent's token, the game piece will be knocked off the playing board and back to the base for the player to start again. Safe spots are a free-landing zone, where all tokens can't be knocked off. Some Ludo versions have extra safe spots marked as star symbols and trap spots marked as skulls which knock you back to your base.
What if two of your tokens are in the same spot? Some Ludo games consider that a blocked spot, meaning other players' tokens can't go past that point.
Finally, who wins in Ludo? The player who gets all their tokens to their home first wins, and the remaining players can battle it out for the runner-up position.
---
Ludo Rules
Every rule guide begins by telling you about the objective of a game, but since we've done that a couple of times, we'll get right into the rules that guide Ludo.
Ludo is played by two to four players.
The player with the highest dice outcome starts the game.
Everything moves clockwise.
You can't pass a turn. You'll have to roll the die; if you can't make a move, the turn moves to the next player.
You can only move one token at a time after you roll the die.
Rule of 6's
In Ludo, six is a special number that comes with extra benefits if you're lucky enough to get it on the die. Some of the things to note about landing this number include the following:
You can move an active token on the board six steps or unlock one of the tokens from your base.
Every time you dice a six, you get to play again.
If you roll six three times consecutively, you lose your turn to play.
---
Different Ways of Playing Online Ludo Games
One of the best perks of playing Ludo online is that there are several exciting ways to play it; you can play as a group by creating a private room and adding three friends. Irrespective of their location, the four of you can enjoy the game and even set up a tournament!
Don't worry if you're in the mood to play and your friends aren't online — you can always choose to play against the computer and even choose a difficulty level. This is an excellent way to sharpen your Ludo strategies and pass the time!
Lastly, you can join international rooms and play against players from all over the world. Even though you are all strangers, these rooms also have a chat option to interact and get to know each other.
---
Ludo Tips and Tricks
Most people have the misconception that Ludo is an easy game to play and doesn't require any strategies. However, that's not true. Even though you won't be racking your brains while playing it, you'll definitely need some strategy to give you a winning chance.
So, here are a few tips and tricks that will make you a Ludo Master!
1. Unlock All Your Pieces Early Enough
One rookie mistake beginners make is playing using one token until it gets home. Instead, make sure you get all your game pieces out of your base as soon as possible because getting a six isn't easy, especially when you're desperately looking for it.
2. Get Your Pieces Moving
It's one thing to unlock all your tokens, but it's another to get them moving. Instead of collecting all your game pieces at your safe spot, you'll need to have a plan so that all tokens move steadily.
3. Playing It Safe
Most Ludo games turn out to be quite emotional because your piece can easily be knocked off just when you're about to get home. To avoid this, stay put in a safe spot and wait until you get a six to make many steps and get out of danger.
4. Don't Wait Until the Last Minute To Get Your Pieces Home
This is a mistake even seasonal Ludo players make, and it might look like a strategy at first, but it can be a devastating downfall. Most players move a token to the home column, and instead of getting it home, they start playing another piece. So, they end up with many game pieces in the home column and desperately search for exact die outcomes to get the tokens home. To avoid this, once you get your game piece in the home column, play it home as early as possible.
---
Playing Ludo for Free and Real Money in Online Casinos
⭐ Playing Ludo online Free
Playing Ludo online for free is common in India. All you have to do is choose the play for free or demo option, and it won't cost you a single rupee! However, if you want to take your Ludo experience to the next level or put your skills to the test, you can play Ludo for real money. This option is available in a few online casinos and will definitely be worth your time.
⭐ Playing Ludo for Real Money
If you want to join a tournament room, there's a buy-in amount you have to pay, which contributes to the pot, and the winner takes it all. However, there are still in-game rewards. Once the game starts, you'll notice different multipliers marked on the board: either 1x, 2x, 3x or 8x.
You can place bets with amounts starting as low as ₹10 to as high as ₹500, so if you land on a multiplier, your bet pays out. When the game ends, you can instantly withdraw your winnings through top payment methods like PhonePe, Paytm, MobiKwik and Google Pay.
---
Top India Ludo Games
If you open your Google Play Store or App Store and type Ludo, you'll see a long list of different versions you can play, some being more popular than others because of the extra features they have or the creative concepts they've used.
Here are the top three Ludo online games played by most Indian players.
1. Ludo Express
If you decide to play Ludo from an online casino, chances are you'll be playing Ludo Express. The game is available in Parimatch and 10CRIC and allows you to play Ludo for real money and cash in on multipliers. Ludo Express has relaxing background music, and its board has extra safe spots, 'stars', and skulls as traps, making it more thrilling.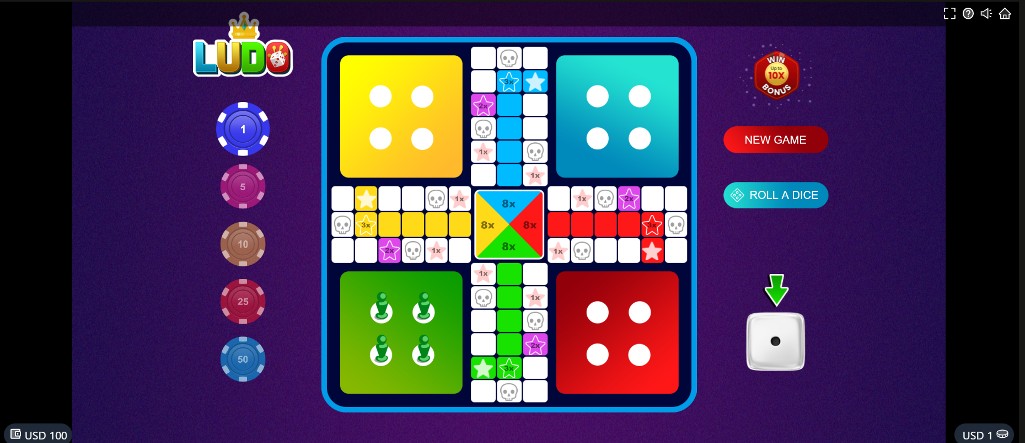 2. Ludo King
If it isn't your first rodeo with Ludo, you've probably heard of Ludo King. The platform was voted "The Most Popular Game of the Year" in the 2022 India Gaming Awards and has over 800 million downloads globally! Ludo King was created in India, with its headquarters in Mumbai. The game offers features like voice chat, a six-players online option, tournaments, team-up mode and unique themes.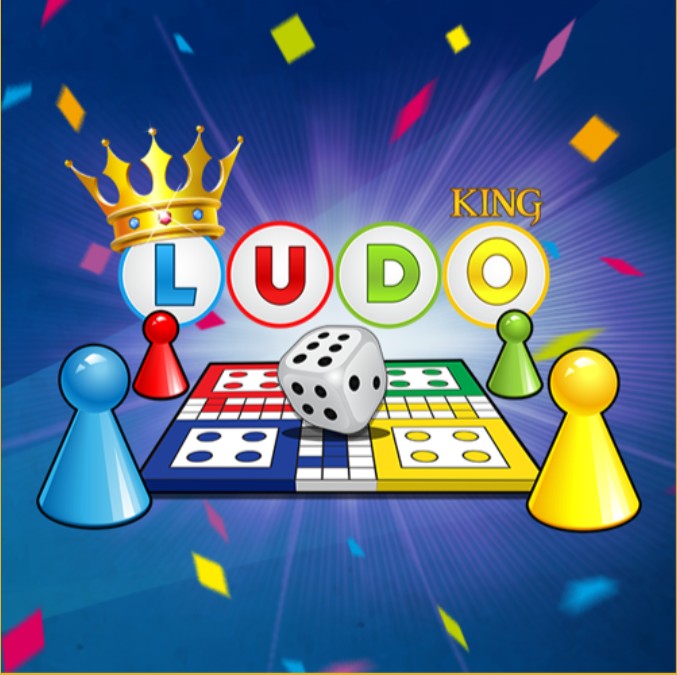 3. Ludo Club
Ludo Club is another top game created in India but with fans worldwide, boasting more than 100 million downloads with a 4.3-star rating in Google Play Store. What makes this game special is its amazing graphics and the creative animations that pop up when you win, dice or get a power-up.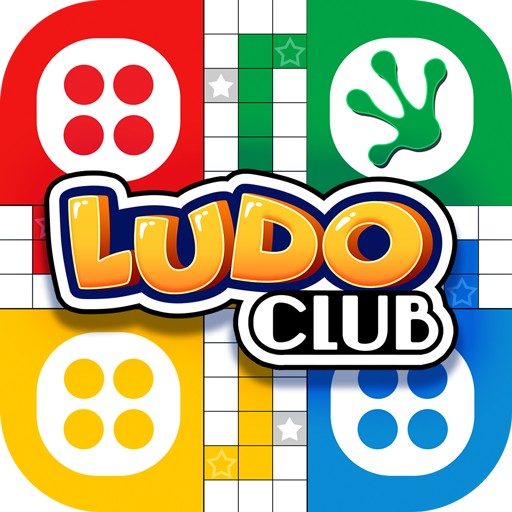 ---
Online Ludo Conclusion
After our Ludo India review, it's safe to say there are enough Ludo games to go around. However, if you want to play Ludo for real money, the online casinos we've listed are your best bet. From its inception as Pachisi in the 6th century in India to its modern version, Ludo has stood the test of time and is a game that has spread from India to different corners of the world!
---
Ludo FAQs
1. Can I play Ludo online for real money?
Yes, you can. Some online casinos such as Jungle Raja offer Ludo for real money, where you can join buy-in tournaments and win multipliers!
2. Is online Ludo rigged?
Online Ludo is safe, and the outcome of the die is random. The games are frequently tested to ensure they aren't rigged, especially those played in licensed online casinos.
3. Which is the best Indian casino to play Ludo?
Only a few online casinos currently offer Ludo, but our top choices are Parimatch, Jungle Raja, 10CRIC and Pure Win.
4. Is it legal to play Ludo online in India?
Yes, it is. However, if you are playing from an online casino, check whether your state allows it.
---
Similar Game Reviews