Teen Patti is a popular Indian card game that has been around since the early 1970s. With the advancement of smartphone technology and fast internet, the demand for the online version of this game has been growing exponentially among younger players. In this detailed guide, we'll provide you with all the information you need to get started playing Teen Patti online, including tips on how to get good cards in 3 Patti and improve your chances of winning.
---
Top Teen Patti Casinos in 2023
---
Teen Patti History
WHAT IS TEEN PATTI?
Teen Patti means 'Three Cards' in Hindi. In other languages, it is referred to as 'Mucheetu' in Malayalam, and 'Munnu Seetu' in Tamil. Requiring three to six players, the game begins with you and the dealer being dealt three cards, after which you can choose to bet to beat the dealer by getting a better hand. A standard deck of 52 cards is used ranked in the usual order from Ace (high) to Two (low).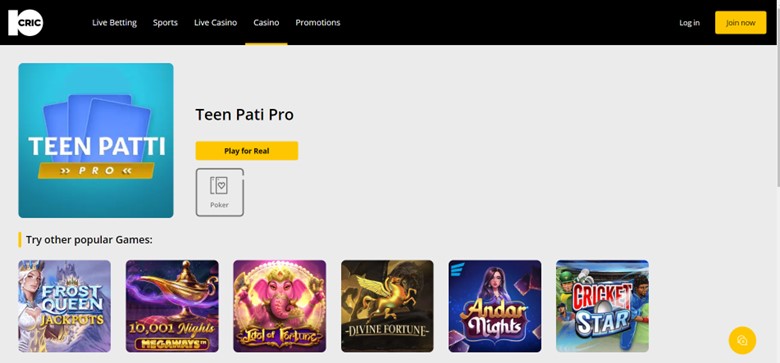 ---
How to Play the Teen Patti Game
At the beginning of the game, every player must contribute an equal amount to the pot (the minimum bet). The dealer (live or otherwise) will then deal three cards to each player, face down. The player who has the highest card becomes the dealer for the next hand.
The dealer then deals one card face up to themselves and one card face up to the player on their left. The player on their left then begins the betting round. They can either choose to play a 'see' (check their cards and then place a bet) or a 'blind' (place a wager without checking their cards).
The betting round continues in a clockwise direction until all players have either folded or placed a bet. The next player then begins another betting round, this time starting with the player who was dealt the second highest card. This process repeats until one of the following occurs:
All players fold, with the last player left standing winning the pot amount.
All players fold, with a tie for the highest ranking hand, in which case a sideshow is requested.
One player has folded, but there are still two active players. In this case, the player with the highest ranking hand wins the pot amount.
If a player requests a sideshow, both players show their cards, and whoever has the highest ranking hand is the winner. If both players have been dealt the same hand, then the player who requested the sideshow loses.
The game continues until all players but one have exhausted all their chips or have chosen to leave the table. The last remaining player is subsequently declared the winner.
---
What Are the Teen Patti Rules?
Teen Patti rules are simple and easy to understand. We've outlined a few key terms below that you should be aware of before playing the game.
Boot amount: Before being dealt any cards, players need to decide on and contribute towards a boot amount before receiving any cards. The boot is also known as the Ante and is the minimum stake amount kept in the centre of the table or playing surface (the pot).
Dealing cards: With every round, the player with the highest drawn card becomes the dealer. He or she then deals three cards to each player in a clockwise manner.
Playing blind or seen: Playing blind means you place your wager without looking at the cards you've been dealt, while playing seen means you will have checked the cards before placing your wager. When betting blind, player must put in at least the current stake and not more than twice the current stake. On the other hand, if you are a seen player, you are required to wager at least twice the current stake and not more than four times the current stake.
The value of stake: The value of the stake is dependent on whether the current and the immediate previous player have been playing blind or seen. If the current and previous player plays blind, then the staked value will remain the same as the value deposited at the pot or could be doubled. However, if the previous player plays seen, then the current player can go with half the staked value of the previous player or the current staked value. In the case where both players are playing seen, the current stake value will stay the same or can be doubled. On the other hand, if only the previous player is playing blind, then the current stable value will be doubled and could be increased four times.
Ranking of the hands and determining the winning sequence: The ranking of hands is similar to that of poker. Trail is the highest hand ranking and is made up of a three-of-a-kind sequence, while the lowest-ranked sequence is High Card.
Folding or showing cards:

The game goes on until all players except one fold their cards. This player will be the winner of the pot. In the case where all players fold except two, then one of them can request a showdown.
---
Ranking of Hands in Teen Patti India
The ranking of hands in Teen Patti is as follows:
Trail/Trio – Also referred to as Three of a Kind, this is the best possible hand featuring three cards of the same rank. The highest rank features three Aces and the lowest rank has three Twos.
Straight Flush – Also known as Pure Sequence, this hand is made up of three consecutive cards of the same suit. A-K-Q is the highest rank followed by A-2-3, while the lowest has 4-3-2.
Straight – Also known as Normal Run, you form this hand with three consecutive cards not of the same suit. The highest rank is A-K-Q and the lowest features 4-3-2.
Colour – Also known as Flush. This hand has three non-sequential cards but of the same suit. The highest rank features A-K-J and the lowest has 5-3-2.
Pair – This hand features two cards with the same rank. The highest rank has A-A-K and the lowest has 2-2-3.
High Card – This is the lowest hand ranking featuring three cards that don't fit in any of the above categories. The highest rank has A-K-J while the lowest features 5-3-2.
How to Get Good Cards in 3 Patti
There is no particular strategy you can use to get good cards in Teen Patti because the cards are always distributed by the dealer, and it is a game of chance.
However, if you are an experienced player and know the rules well, you'll be able to make smarter predictions and decisions. Read on for our seven easy-to-follow tips on how you can improve your chances of winning later on in this article.
---
Can You Play Teen Patti Live?
Nowadays, you can play Teen Patti live online with other players from around the world through platforms such as Parimatch, 10CRIC, and ComeOn!
Playing Teen Patti live is a great way to connect with other players who share a love of this fast-paced and exciting game. You can chat with them, share tips and tricks, and even enter tournaments. Plus, you get to play in real time, which means no waiting for turns.
One thing is guaranteed – with live Teen Patti, you are in for a thrilling ride!
Best Casino Apps for Live Teen Patti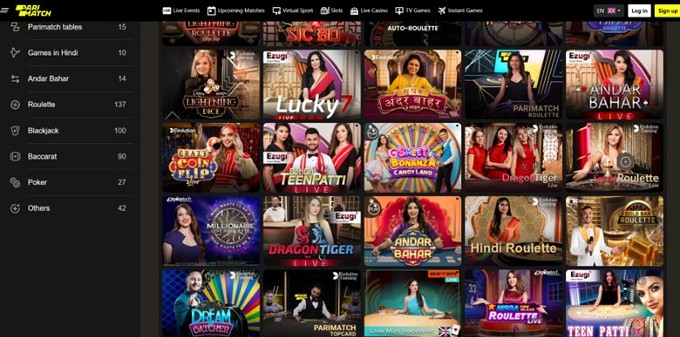 Some of the best casinos for playing live Teen Patti on apps are:
Parimatch
Parimatch is quickly becoming one of the most popular online casinos in India. Not only does the site accept Indian currency, but it also supports a multitude of payment options suitable for Indian players, with the app giving you access to all options available on the desktop site. Besides Live Teen Patti, you can also play live poker, baccarat and Andar Bahar.
10CRIC
10CRIC, like other sites listed here, offers a great selection of casino games. Apart from Teen Patti, you also have the option to play live poker, roulette and blackjack. On top of all this, you'll find a a highly user-friendly interface, convenient payment choices, lightning-quick cash withdrawals, and fantastic promotions.
ComeOn!
ComeOn! offer one of the best collections of vibrant live casino games, with live tables that provide an immersive and realistic casino experience. Besides Teen Patti, you'll be able to play live roulette, live blackjack, and even live Monopoly. Multiple payment options for Indian players are accepted, and there's also a great VIP programme along with very responsive customer support should you need any assistance.
---
7 Easy Tips to Boost Your Chances of Winning Teen Patti
To improve your chances of winning a game of Teen Patti, you should:
Start small
If you are a beginner, don't immediately put too much money into the game. Start small, and when you become familiar with the rules and gain some experience, you can start placing higher wagers.
Play blind
In Teen Patti, you have the option to raise the stakes before your opponents have seen their cards in their hands, just like in poker. Rather than focusing on the cards, you'll focus on other players' emotions to make your decisions based on their feelings.
Set a budget
While certain techniques can aid your chances of success, Teen Patti is a game of chance. That is why we recommend you protect yourself and your bankroll by gambling responsibly and setting limits. Never spend more than you can afford to lose!
Memorise the cards
It's a good idea to keep track of which cards have been played as well as the sequence that was followed. Playing cards in this manner may be tough, but it will help you learn who has the value cards so that you can make informed wagers and avoid wasting your chips.
Know the rules well
Whether you play online or in real life using physical cards, it is crucial that you are aware of all the rules before playing Teen Patti.
Opt for the sideshow option when necessary
Once you've seen your hand, use this option if confident in what's ahead – allowing others to know what they're up against can tilt the odds in your favour.
Know when to fold
Folding if your cards are bad is crucial, especially if you are risk-averse as a player.
---
Teen Patti Terms To Know
Before you go ahead and play Teen Patti, be sure that you know the meaning of the terms listed below.
3-of-a-kind (also called 'Trio' or 'Trail') – This is the most powerful hand in Teen Patti and refers to a hand of 3 cards of the same rank.
Pure sequences – Also known as straight runs, these are three-card combinations (hands) of the same suit in sequence.
Standard sequences – The cards are dealt face down in numerical order. The player's turn ends after the dealer's hand is completed.
Normal sequences – A sequence is a set of three cards read in numerical order, but not necessarily of the same suit.
Boot Amount – The Boot Amount is the lowest amount that may be placed on the board before the game begins.
Blind & Seen – 'Blind' players are those who choose to bet on cards without having seen them, whereas 'Seen' players are those who prefer to wager after seeing the cards.
Sequence – A combination of cards that lie in a trio of consecutive cards, not necessarily of the same suit.
Ante – An Ante is a forced bet by players at the beginning of a game.
Post – The ante submitted by a player after they re-enter an online game.
Chaal – Regular betting that begins after the force blinds have been placed.
Fixed Limit – The maximum betting amount by a player that is equal to the call amount.
Spread Limit – Any amount that a player can raise following the betting rules of the specific game is termed as Spread Limit.
Pot Limit – When players are allowed to raise the amount equivalent to the whole pot size in the game, it is called a Pot Limit.
No Limit – Any limit amount raised by the players is called No Limit.
Sideshow (also known as a backshow) – When both the players can show each other's cards if one of the players grants permission, it is known as a Sideshow. The weaker hand folds in this case.
Fold – This is when a player backs out if they think their hand isn't strong enough.
Show – When all except two players fold, the ones remaining compare their hands. The one with a higher ranking wins.
---
Is Live Teen Patti Available on Mobile Casino Apps?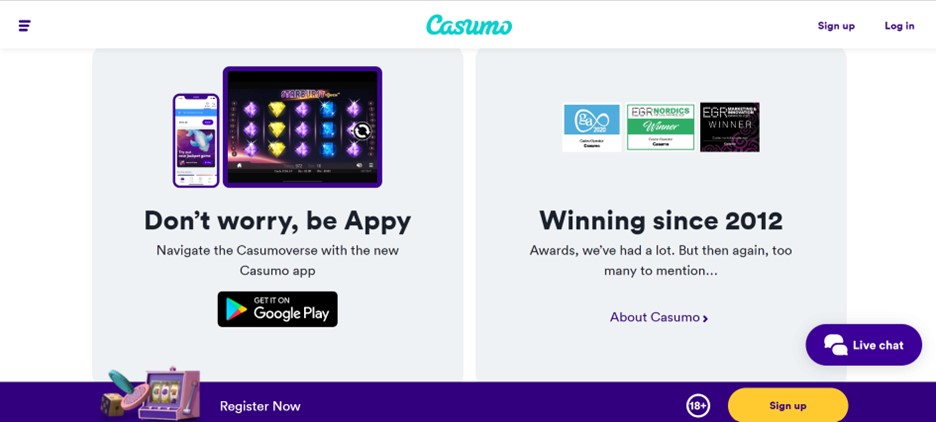 Yes, you can play Teen Patti through many licensed mobile casino apps like Casumo, 10CRIC, Parimatch, LeoVegas, and Royal Panda, which all retain the same features and payment methods found on their desktop counterparts. All you need to do is register (if you are not already an existing customer), sign in, and make a deposit to get started.
---
Online Teen Patti Summary
In this review, we've outlined the basic rules of Teen Patti and given some tips on how to become a better player. We have also recommended a few outstanding online casinos that offer the game on their platform – all that's left for you to do us pick a site from our list and give things a go for yourself!
---
Teen Patti FAQs