Have you ever wanted to jump into the cockpit and fly a plane? Well, crash gambling is becoming popular in India, and one of the top hits is the Aviator Game. So if you are up for a bit of adrenaline rush, the Aviator casino game is the perfect fit. Read on for all you need to know about this game and how you can play it for real money!
---
What Is the Aviator Game?
Spribe's Aviator game is a top crash gambling title with a fun, exciting twist. Instead of the usual increasing curve that crashes any second to determine wins, this game has spiced up its gameplay by having a plane increase the curve as it flies away.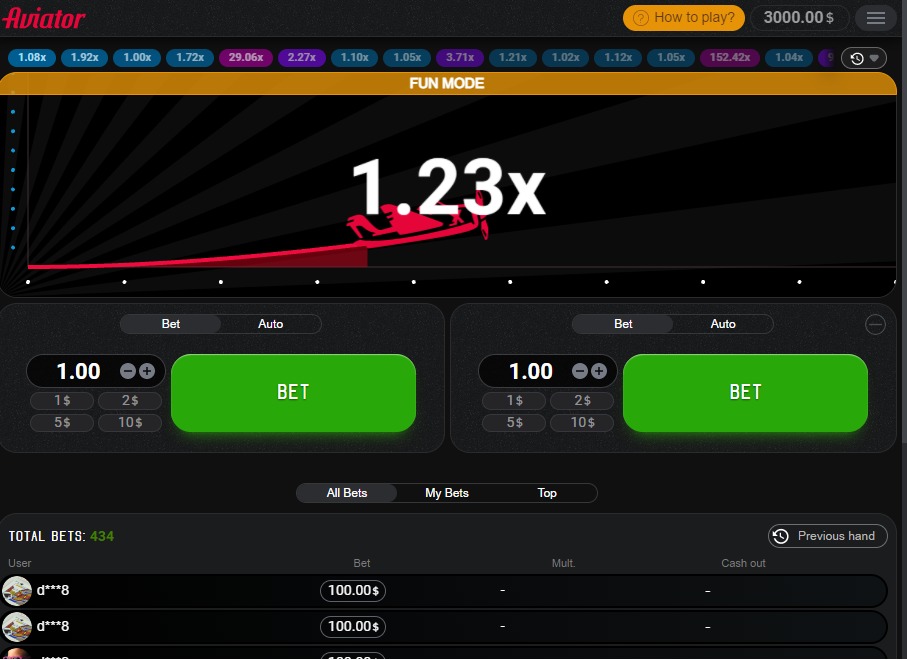 What's more, the game's social experience is on another level, with in-game features such as live chat and bets, providing the best of both worlds, where you can play as easily as in slots and interact like you're playing a live dealer game.
---
How To Play Aviator Game Online
Jumping into the cockpit and playing the Aviator game online is easy, and that's one of the reasons why Indian players love it. Once you launch the Aviator online game, you can start playing using these simple steps: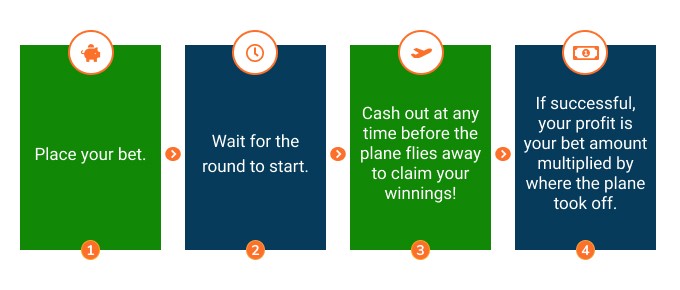 Place your bets
You'll have approximately five seconds to place your bet before the plane starts flying. It's good to know that you can place two bets simultaneously, which means you stand to win even more.
Start playing
Once the bet has been placed and the round starts, the plane will start flying, and you'll notice that the multiplier increases every second. The game begins with a 1x multiplier, but the plane can hit even higher coefficients if you are patient enough for that big win.
Cashing out
This is where the fun begins. Winning in the Aviator game requires you to keep an eye on the plane's movement, as you have to press the 'Cash Out' button before the plane flies away. So, if you wager ₹80 and cash out when the coefficient is at 5x, and the plane hasn't flown away, you win ₹400! Your wins are credited to your account instantly, so you can bet on the next round immediately. Since the game happens fast – taking almost a few seconds every round, there are two betting features you can use to make your gaming easier.
• Auto Bet: Also called Autoplay, this feature can be used to automatically place bets on up to 10 rounds with the same bet amount.
• Auto Cash-Out: Likewise, you can set a multiplier/coefficient when you want your bet to be cashed out automatically.
Aviator Game DEMO
---
Is the Aviator Game Legit?
One of the most commonly asked questions is whether the Aviator game is real or fake. Is it really that easy to win, or is it a scam? While whether or not you win depends on your luck, the game's mechanics are 100% legit.
In fact, when you check Spribe's website, you'll see that the game provider is licensed in over 15 jurisdictions, including the UK Gambling Commission and Malta Gaming Authority. Aviator game is as legit as they come, and you can play it in trusted casinos.
Is the Aviator Game India Safe?
The Aviator game is one of the few provably fair titles, meaning the game's algorithm makes it possible to test and confirm whether it's fair or not. The outcome of each round, that is, when the plane flies away, is totally random. All players access the same game, so what you see on your screen is what another player from a different region sees.
---
Spribe's Aviator Game: Tricks & Tips to Win
Unlike poker or blackjack, where strategy plays a big part in how you win, the Aviator game is mainly based on luck. But that doesn't mean you can't make the most of your bets.
Here are a few tips you can try to increase your wins on the Aviator game online:
Use the Auto Bet and Cash-Out features:
Using these two features, you can come up with a winning strategy while retaining your wager amount, and here's how you go about it. For your two bets, you can have the first one as ₹100, while the second one can be ₹200. Give the second bet an auto cashout of 1.5x so that once it hits, you've recovered both your wagers.
You can use your first bet to chase bigger wins and cash out early enough before it gets too risky. Basically, the larger bet insures the smaller bet as it tries to make a profit.
Start by playing for free first:
Even though the Aviator game is simple to play, you're better off trying to play for free first to learn more about the game's betting features to make the most out of your play when you wager real money.
Check out live bets and stats:
Other players' live bets and stats can help you see what's working or not. If one player consistently wins, you can see how they place bets and chat about it to share ideas.
Go for low multipliers:
Big multipliers will give you big wins, but they are also risky. A safe bet observed for most players is to bet on smaller multipliers.
---
Aviator In-Game Features
Aviator game's social and engaging features make it even more exciting, ultimately creating a community of players looking to have fun with fast-paced games. Let's take a look at some of the in-game features that will liven your gaming experience:
| | |
| --- | --- |
| ✅ In-game chat: | Aviator game has a chat feature, where you can interact with other players, exchange jokes, and make new friends! |
| ✅ Live bets: | This feature allows you to see how other gamers win, including their win amounts and multipliers. This way, you can see whether there are any patterns or winning trends. |
| ✅Live statistics: | To stay updated with the latest wins, the game has stats showing the biggest wins daily, weekly or monthly. You can also check your betting history or filter the statistics to display information that is only relevant to you. |
---
Aviator Game Promotions
Besides having exciting gameplay and in-game features, the Aviator game also comes with promotions that can increase your wins! Here are the offers you can claim – from free bets to tournament prizes – while playing the Aviator game online.
⭐ Aviarace Tournaments:
The competition pops up every once in a while, giving players the chance to compete for top positions on the leaderboard to get prizes like free cash, bets, and special rewards. All you have to do is play the game, and each win you get earns you bonus points that rank you on a leaderboard -the players with the most points win.
⭐ Rain Promo:
While playing, always stay on the lookout for the Rain promo that gives out free bets in the chat room. Once the promo appears, you only need to tap on the 'claim' button to claim the free bets. Other players can also make it rain and reward free bets by entering the desired amount and choosing the number of rain drops.
⭐ Free Bets:
These come up randomly, and individual players get awarded with free bets to have a blast at the game for free!
---
Playing Aviator Game on Mobile
This title catches up with the increasing mobile gaming trend, and you can play the game on your smartphone or tablet. In fact, thanks to the upgrade Spribe made in 2009, the new version offers a more intuitive interface and top-notch visuals. So no matter the screen size, played on iOS and Android, the gameplay is optimised for the best mobile experience.
It doesn't stop there, though; the chat function on mobile comes with emojis and gifs, making the interaction all the more exciting.
So, why not try out downloading the Aviator App!
---
Where To Play Aviator Game in India
At the moment, the game is popular in crypto casinos – not many casinos offer the Aviator game online, so searching for it might be a hassle. However, there are a few top Indian casinos, including 7bit, Bitcasino, King Billy, mBit and Videoslots, where you can play the title and enjoy its features. Simply use the search tool on their homepage and type in the name of the game.
Besides offering the Aviator game, these casinos come with great bonuses and are legit and secure.
---
Other Similar Crash Games You Can Play
If you want to try out different concepts of crash games, you'll be pleased to know there are others you can play. While they are all unique and exciting in their own way, the gameplay remains the same.
Some of the top crash gambling games you can play include:
Space Crash
Ready for take-off? With Space Crash, all you have to do is cash out before the green rocket crashes in space. The rocket propels itself increasing the multiplier until it explodes and the round ends.
Dragon Crash
If you are a fan of mythical creatures, you'll love Dragon Crash because a purple dragon is the star of the game. The game starts with the dragon flying in a purple world filled with crystals, and as it soars to the sky, the multiplier increases. You'll need to cash out before the dragon bursts into flames to land a win.
Basic Crash
Compared to other crash games, Basic Crash from TrustDice is simple and only has an increasing line that crashes at random times.
Adrenaline Crash
FortuneJack have added an interesting spin to their crash game by having a heart rate as the game's concept. The beats per second translate to the multipliers, and a round ends once the heart stops beating.
---
Play Aviator Game for Free
Before you wager real money on the game, why not try the Aviator game for free right here?
| | |
| --- | --- |
| Minimum bet | ₹7.9 ($0.1) |
| Maximum bet | ₹7,900 ($100) |
| Maximum win per bet | ₹790,000 ($10,000) |
---
Aviator Game Conclusion
The innovative Aviator game is shaping the future of online casino games, where you can play instant-win titles with big wins. Offering a social environment, you can chat with other like-minded players while keeping your eyes on the increasing multipliers. The game offers top features like live bets, tournaments and free bets, which are all great incentives.
Even though the Aviator game might look easy to play from the get-go, it's best to start playing it for free first to be the perfect pilot!
---
FAQs
1. How do I win at the Aviator game online?
You win at the game only if you bet and cash out before the plane flies away.
2. What is the Aviator game's RTP?
It has an RTP of 97% and is a medium-volatility game.
3. How long does each round of the game take?
The round can take a few seconds if the plane flies away after a small multiplier, and can take up to several minutes if the plane continues to fly and hits a larger multiplier.
4. What are the minimum and maximum multipliers of the game?
The multipliers/coefficients for the game can range anywhere from 1x to 1,000,000x.
---
Other Similar Games