Almost all online casinos have some condition regarding minimum wagering requirements. However, understanding them can be confusing and they can potentially limit your ability to reap the rewards you are expecting. In this blog, we aim to give you valuable insight into how wagering requirements work — so let's dive right into it!
---
---
Top 10 Online Casinos in India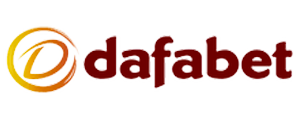 1.
Up to ₹16,000 'Welcome Bonus'
10x wagering requirement
Live sports betting available
Accepts UPI payments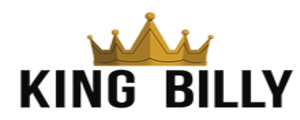 2.
Up to ₹2,00,000 'First Deposit Bonus'
20x wagering requirement
24/7 customer service
Lucrative bonuses

3.
Up to ₹1,00,000 'Welcome Bonus'
Low wagering requirements
Excellent mobile app
Lucrative promotional offers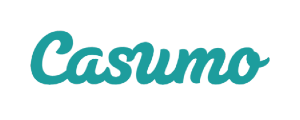 4.
Up to ₹15,000 'Welcome Bonus' + ₹101 daily for seven Days
30x wagering requirement
Disperses players' winnings quickly
2,000+ casino games available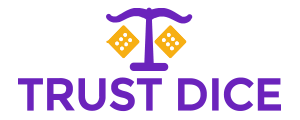 5.
35x wagering requirement
Extremely secure
Accepts cryptocurrency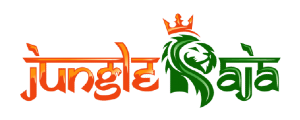 6.
Up to ₹500 'No Deposit Bonus'
35x wagering requirement
24/7 customer support
Speedy dispersal of winnings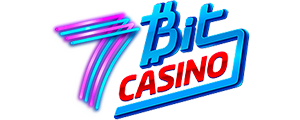 7.
Up to ₹25,000 'First Deposit Bonus'
Impressive VIP club
Speedy dispersal of winnings
Library of 1,000+ casino games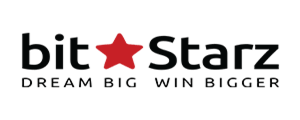 8.
Up to 5 BTC 'Welcome Bonus'
Secure site
2,900+ exciting casino games
Decent customer service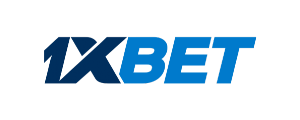 9.
Up to ₹20,000 'Welcome Bonus'
Speedy dispersal of winnings
Has live sports betting
Excellent mobile app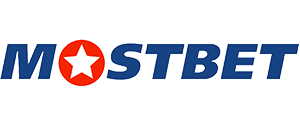 10.
Up to ₹25,000 'First Deposit Bonus'
Great mobile app
Impressive promotional offers
Hindi and Bengali versions of website available
---
What Are Wagering Requirements?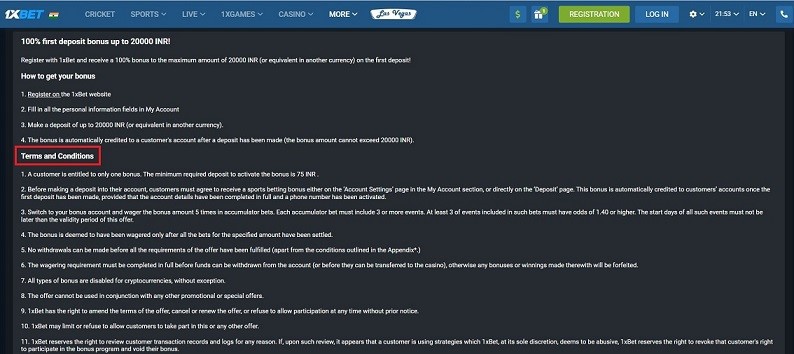 Wagering requirements refer to the number of times the bonus must be wagered before it can be withdrawn. This applies mainly to online casinos, and is designed to ensure that the player does not simply withdraw the bonus immediately after receiving it.
Wagering requirements vary but could typically range from 5-10x up to 40x or more. For example, if the wagering requirement is 20x and a player receives a ₹1000 bonus, they will need to bet ₹20,000 before being eligible for withdrawal.
In most cases, wagering requirements apply to the bonus only, and any winnings from that bonus must be wagered in accordance with the stated requirement before they can be withdrawn as real money.
The table below illustrates what wagering requirements at an online casino could look like:
| Type of Bonus | Minimum Wager Amount | Minimum Wagering Requirement | Total Sum To Be Wagered |
| --- | --- | --- | --- |
| First Deposit Bonus | ₹500 | 20x | ₹10,000 |
| Free Spins | ₹50 per spin | 50x | ₹2,500 |
---
Why Do Casinos Keep Wagering Requirements?
Casinos keep wagering requirements to protect themselves from players who might take advantage of the system by withdrawing bonuses as soon as they receive it. The conditions ensure that customers have to play a certain amount before they can cash out any winnings, thus reducing potential losses for the casino.
There are legal reasons for having such conditions, too. For instance, gambling authorities, like the UK Gambling Commission, require online casinos to have wagering requirements to curb money laundering activities.
Are Wagering Requirements Mandatory?
Yes, it is mandatory for players to meet the wagering requirements set by an online casino to withdraw their bonuses. The wagering requirement ensures that a player plays with the bonus money (the actual purpose of providing bonuses) before they can cash out their bonus offer.
---
Most Common Wagering Requirements
Wagering requirements for online casino players come in many forms: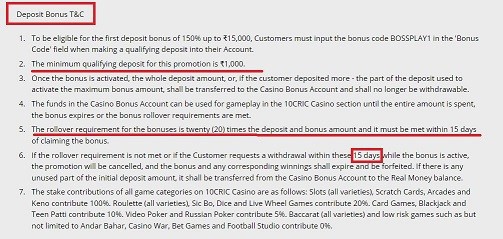 Validity Periods / Time Limits:
This is the designated time window within which you must comply with all terms & conditions to be eligible for withdrawing the bonus money.
Minimum Deposit:
This refers to the minimum amount that you must deposit in your casino account to receive that particular bonus.
Playthrough Requirement:
This requires players to wager their bonus credit or cashback a certain number of times before they can withdraw any winnings. It's usually expressed as 'x' number of times (such as 20x or 40x). For example, if a bonus requires a 30x playthrough, this means that the customer must wager 30 times their bonus amount before cashing out.
Maximum Cashout Limits:
This is where players are restricted in how much they can withdraw from their winnings. The most popular limit for this kind of requirement is usually five times the bonus amount, or even less. This means that if a player wins ₹100 with their bonus, they are restricted to withdrawing no more than ₹500.
Game Restrictions:
Finally, there are game restrictions on wagering requirements imposed by casinos. This means that players will only be able to use their bonus on certain games and not others. Also, be sure to check the terms and conditions in full, as often it may be that certain live games or sports betting may not count towards wagering.
However, some casinos allow players to opt out of their welcome bonus if they do not wish to play with the wagering requirements attached. This is a great way for players to ensure that they are only playing with their own funds and not having their winnings tied up in bonus restrictions.
---
Limitations of Wagering Requirements on Players
If a bonus requires you to wager money in excess of what is comfortable or reasonable, it's likely that you won't be able to take advantage of the promotion and win anything at all.
Additionally, if a bonus requires you to play certain games while restricting you from playing others, it can take the thrill out of your casino experience as you may be forced to bet on some game you don't even like or had no intention of playing.
How To Avoid Wagering Requirements
Wagering requirements can be intimidating and difficult to meet, but there are several ways of ensuring that you get the most out of your bonus. Here are some tips:
1. Pick the right casino
Look for bonuses with low wagering requirements that offer higher payouts, as these will give you a better chance of meeting the requirements while still being able to enjoy your winnings. Alternatively, some casinos may even offer bonuses that come with no wagering requirements at all.
2. Make use of the casino's loyalty rewards
Utilising a casino's loyalty schemes and VIP programmes can give you access to special bonuses with more favourable terms and conditions, most often coming with lower wagering requirements or none at all.
3. Compare the RTP of the games you play
Before playing any casino games, be it slots or table games, be sure to check the game's return-to-player (RTP) percentage, as this will give you an indication of how much a game pays out in winnings. This can help you choose the best games to play in order to meet your wager requirements more easily.
4. Check the Terms & Conditions
Maintain an overview of all bonuses that you have claimed, including their associated wagering requirements. Doing so will help you better manage your bonus money and make sure that you don't overlook any potential winnings.
5. Pick bonuses with lower wagering requirements
Look for bonuses with low playthrough requirements so that the wagering requirements can be met quickly and easily, allowing you to enjoy your bonus sooner.
6. Make smaller bets
When possible, try making smaller bets as these will give you more opportunities to win. This may take a bit longer to reach the wager requirements, but it will be worth it when you get to reap your rewards!
7. Opt out of the welcome bonus
Finally, if you don't feel comfortable with the wagering requirements at a particular casino, you can always opt out of its welcome bonus (if the casino allows it) and use your own funds to play. Although this may be less profitable in the short term, it could save you from having to meet certain requirements in the long run.
---
How Does Wagering Work?
There are three main wagering options at online casinos:
Slots Wagering
Slots wagering is usually the most straightforward type of wagering when it comes to online casinos, as there are generally lower requirements than other types of gaming, like live casino or sports betting. To be able to withdraw winnings from bonus spins on slots, you often have to play through the bonus money a certain number of times.
Live Casino Wagering
Live casino wagering has slightly higher requirements compared to slots because of the lower house edge. This means that in order to be able to withdraw your winnings from live casino play, you have to play through the bonus money a certain number of times before it becomes withdrawable cash.
Sports Wagering
Sports wagering has the highest requirements, with some casinos requiring up to 50x the bonus amount to be wagered. This is because the house edge on sports betting is much higher than other types of gaming. So, if you see the sports wagering as larger than normal casino, this is usually a normal find.
---
Things To Spot for Picking up the Best Offer
When you are looking for the best casino offer, it is important to consider a few factors.
Low odds requirement
You want to make sure that the offer has low minimum odds set so that you can easily maximise the potential from the bonus.
High validity period
High validity is another factor to take into consideration. The higher the validity period of the bonus, the more time you have to meet the wagering requirements and benefit from it.
Low turnover
Low turnover is a must-have for any bonuses or offers. Choose an offer that requires you to turn over your bonus amount only once, as this will give you more value for money.
Minimum conditions
Lastly, look for minimum conditions that come with the bonus such as minimum playthrough requirements or low minimum deposit requirements.
---
Looking for No Wager Bonuses?
No wager bonuses come with no strings attached. There is no requirement for players to make a deposit or meet any other conditions in order to claim them. Instead, players can simply claim the bonus and use it immediately.
These are usually offered in the form of cashbacks or free spins, which can be used to play a variety of slot games on the platform offering the bonus. However, it is important to note that these bonuses are extremely rare and the bonus amount given out for these offers are usually on the lower side as compared to others.
Best No Wager Bonuses
There are a variety of no wager bonuses available for players to claim.
Cashback: Some casinos offer cashback as a no wager bonus, which means that players receive a percentage of their losses back as real money. This is an ideal option for those who are looking to limit their losses while still having the opportunity to win real money.
Free Spins: Many online casinos offer free spins as a no wager bonus, which players can use to spin the reels on their favourite slots and potentially win real money without risking any of their own funds.
Reload Bonuses: Some casinos also offer reload bonuses as no wager bonuses. These are often offered to players as a reward for making multiple deposits and can be used to play various games on the platform.
Top Casinos That Offer Low Wager Bonuses
| Casino Name | Wagering Requirement for Welcome Bonus |
| --- | --- |
| | 10x |
| | 20x |
| | 20x |
| | 30x |
| | 35x |
---
Wagering Requirements Conclusion
Wagering requirements may seem like a hindrance when looking for the best casino offer, but they are there to ensure fair play and discourage money laundering. Check out the list of casinos mentioned in this blog, sign up with any of them, make use of their lucrative offers and gamble responsibly!
---
Wagering Requirements FAQs
1. How can I beat wagering requirements stipulated by an online casino?
Try to find bonuses with lower wagering requirements. It's usually better to go for a casino offering 10x or 20x wagering requirements than one with 50x. Also, stick to games that contribute 100% towards the wagering requirements.
2. What happens if I am unable to meet the wagering requirements set forth by an online casino?
If you are unable to meet a casino's wagering requirements, your bonus will be forfeited, and you will not be able to cash it out or use it to place subsequent bets.
3. Do all games contribute equally to wagering requirements?
No, different casino games will contribute differently to wager requirements. It is important to check the rules and regulations of a particular online casino before playing. Usually, slots tend to have higher contribution rates than table games.
4. How can I track my progress towards meeting the wagering requirement?
To track your progress in meeting the wagering requirement, simply visit the "My Account" page of the casino. The page (under the 'deposits' section) will allow you to check how much you have wagered so far and how much you still need to wager before meeting the requirement. It also shows a breakdown of all your individual bets and their outcomes, so you can keep track of your progress in real time.
---
Other Interesting Reads