1xBet Withdrawal Time, Limits and Process India
1xBet is a popular brand in India that needs no introduction. Besides having top games from reputable software providers and rewarding bonuses, 1xBet withdrawal times are among the best. In this guide, we will take a look at how seamless 1xBet withdrawals are and all you need to know about cashing out your winnings.
---
1xBet Withdrawal Methods
Picture this: an online casino with 100 deposit methods and over 70 withdrawal options. If that doesn't sound like a player's paradise, then we don't know what does! 1xBet has one of the most impressive payment options for players, with a wide range of e-wallets, bank transfers, cryptocurrencies and much more.
1xBet withdrawal India accepts rupees, so you will have an easy time transacting in the local currency. What we liked about this site is how easy it was to find information related to withdrawals. Once you click on any payment option, you'll see the minimum withdrawal amount and the details you need to enter to complete a transaction.
Below is a list of the available 1xBet withdrawal options, from which you can easily pick one or two that suit you best.
Bank Cards: Mastercard, Visa
E-wallets: PhonePe, GooglePay, Paytm, UPI, Paytm Wallet, BHIM, WhatsApp Pay, MobiKwik, JioPay, Amazon Pay, Airtel pay, Freecharge, PayZapp, Bharat, NetBanking, MoneyGo, WebMoney, Skrill, AstroPay, Perfect Money, Jeton Wallet, Sticpay and AIRTM.
Cash: 1xBet Cash
Payment System: Payz, Payeer and NETELLER.
Bank Transfer: IMPS, Bank Transfer and Neft.
Cryptocurrency: Bitcoin, Ethereum, Solana, Tron, Bitcoin Cash, Ripple, Litecoin, Dogecoin, Dash, Monero, ZCash, NEM, BitShares, DigiByte, Verge, Stellar, Dai, Tether and QTUM.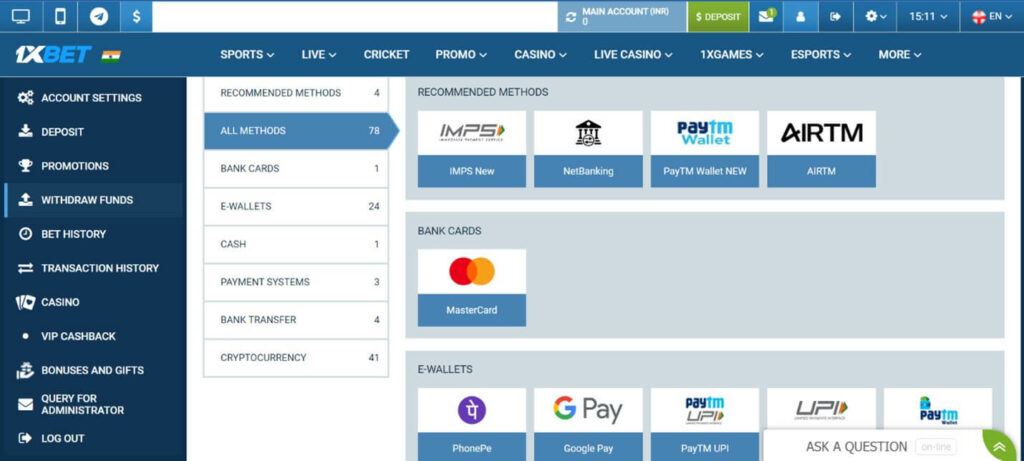 ---
What Is the 1xBet Withdrawal Limit?
Ready to cash out your winnings? Good news: the 1xBet minimum withdrawal limit is friendly and varies depending on your chosen method.
Options like NETELLER, Perfect Money, Web Money, and 1xBet Cash require a modest ₹105 to withdraw. On the other hand, popular Indian methods like IMPS, PhonePe, Airtel Pay and Skrill need ₹500 to ₹1,000 to cash out.
For the maximum limit, the amount will also depend on the payment method you select. PhonePe and GooglePay have low amounts of ₹35,000, while Skrill, AstroPay and cryptocurrencies go as high as ₹25,00,000.
What Is the 1xBet Withdrawal Time India?
Slow withdrawals that are at times delayed are as frustrating as when your salary is held up. Thankfully, 1xBet fast withdrawals won't have you worrying about any of that. If you choose e-wallets like Skrill, NETELLER, and AstroPay or cryptocurrencies, you'll receive your money in 15 minutes!
Bank transfer options like UPI and NetBanking take up to two days, while card withdrawals can take up to seven. Even though these methods might take a long time to process your transaction, they are among the safest you can get, and might also be the most convenient for some players.
---
1xBet Withdrawal Process: A Step-by-Step Guide
With many banking options, one might be tempted to think that the withdrawal process at 1xBet will be complicated, yet it's actually the opposite. Withdrawing funds from your casino account is easy and should only take a couple of minutes.
Here's a step-by-step guide to get you started.
Sign up or log in to your 1xBet account.
On the top-right corner of the screen, click on the 'My Account' logo.
You'll see a drop-down menu, where you'll choose 'Withdraw Funds'.
After clicking it, the site will show you the payment options available in your region, divided into different categories.
Choose the withdrawal option that suits you best and enter all the required details.
Click 'Confirm' to submit your withdrawal request and wait for your money!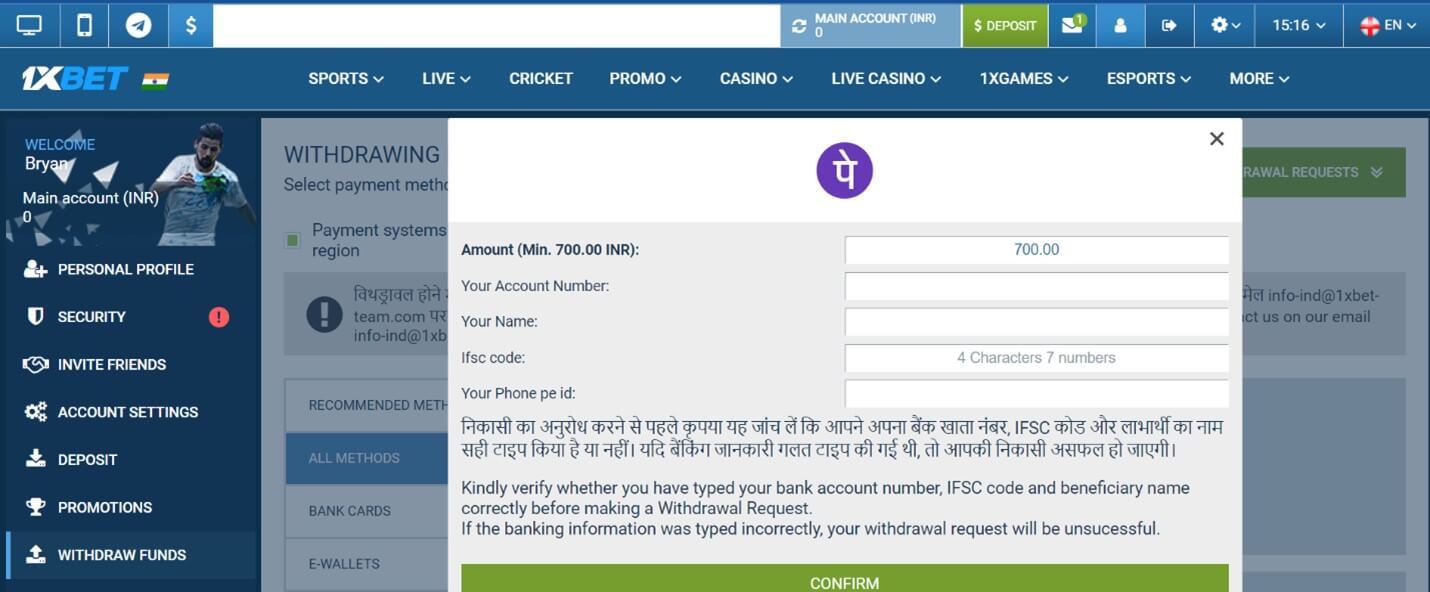 How To Verify Your 1xBet Account
While it's easy to withdraw from your 1xBet account, all that is possible only if you have verified your account. This is in line with the company's Know Your Customer (KYC) policy to keep its users safe and prevent money laundering.
Before your first payout, you should have verified your account by filling in all personal details, and if requested, uploaded the necessary documents to confirm you are who you say you are.
Here's how you go about verifying your account:
Log in to your 1xBet account.
Still, on the top-right corner of the screen, click on the 'My Account' icon and choose 'Personal Profile'.
You'll see your personal profile, and the next step will be filling in all the gaps, including your date of birth, permanent registered address and contact info.
You'll also need to choose an identification document and include the document's number and the date of issue.
Documents accepted from Indian players by 1xBet are:
• Driving Licence
• Aadhaar card
• PAN card
• Ration card
After all the details have been filled in, click 'Save'.
1xBet will verify your information and documents in roughly 24 to 72 hours, so it's best to do this as soon as possible.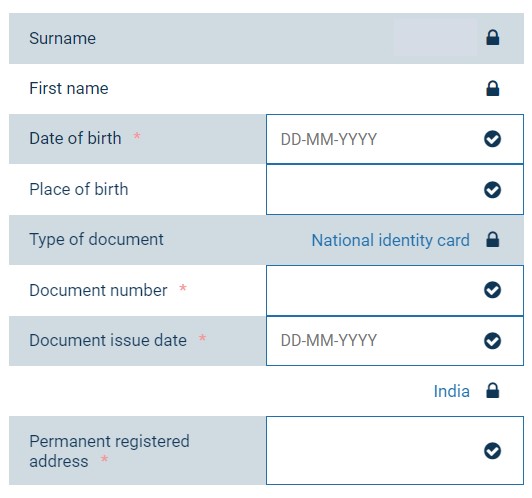 ---
1xBet Withdrawal Problems
Although 1xBet withdrawals are typically seamless, there are a few things that might slow down your withdrawal process:
Withdrawal limit: Every 1xBet withdrawal option has its minimum and maximum amount limits that shouldn't be exceeded. If you try to withdraw an amount, let's say below the minimum limit, an alert will pop up to notify you of an error.
Incomplete profile: To successfully withdraw, you need to complete your profile with accurate details. 1xBet must verify your account to confirm whether you are the account owner.
Similar deposit and withdrawal method: One payment term of 1xBet is that your withdrawal method needs to be the same as your deposit option. However, you might have noticed that the number of deposit methods exceeds the payout options. If you deposit funds via an option that isn't available for cashing out, 1xBet will only allow you to withdraw using Bank Transfer.
Meet all wagering requirements: If you claim any 1xBet bonus or promo, you'll need to satisfy all the bonus terms — including wagering requirements — before you can withdraw. Failure to do so will result in 1xBet not processing the withdrawal.
Withdrawal might be blocked: 1xBet is always searching for suspicious activity on its site, and if your transaction is flagged as one, your payout might be held up. If you encounter such a problem and haven't committed any wrongdoing, you can reach out to customer support to follow up on the issue and have your money released.
How To Cancel a 1xBet Withdrawal Request
1xBet allows players to cancel their withdrawal request; however, you'll need to be fast because some options take only 15 minutes to process your transaction. Withdrawals that have already been processed can't be cancelled.
If your 1xBet withdrawal request is yet to be approved, this is how you can cancel it:
Step 1: Log in to your 1xBet account.
Step 2: Head to your account profile and choose 'Payment Requests'.
Step 3: You'll find a green 'Withdrawal Requests' tab with all pending transactions.
Step 4: If your transaction is yet to be processed, you can click on the cancel optio, and the withdrawal will be reversed.
---
How To Make Your 1xBet Withdrawal Faster
Our experience with 1xBet has given us a few tips and tricks on how you can make your withdrawals even faster. Since the platform already offers quick payouts, you can take advantage of this and make the process seamless by trying out the following.
Make sure you complete your profile and verify your account as soon as you sign up at 1xBet. The verification process takes one to three days, so doing it earlier saves you the last-minute rush when you want to cash out.
Choose a favourable deposit method that will also serve as your withdrawal option. Check the withdrawal limits as well, as they differ from one payment method to another.
Confirm your payment details before you initiate a withdrawal request. The transaction won't go through if you make a mistake with a letter or number.
---
1xBet Withdrawal Rules
Once again, we have to give props to 1xBet for having clear information about the rules that guide withdrawals. Under the terms and conditions, specifically section 7, you'll find all the terms on deposits and withdrawals.
Here are some of the 1xBet withdrawal rules:
Players can't withdraw via e-payment systems (Payz, Payeer and NETELLER).
Withdrawals must be consistent with a player's bet history. Otherwise, 1xBet has the right to deny payment.
If a withdrawal request seems suspicious, 1xBet can hold onto the amount until any doubts are cleared.
All withdrawal requests are processed 24/7.
Only players 18 years and above can have an account with 1xBet and cash out.
---
How To Withdraw From the 1xBet App
Nothing beats the convenience of playing on the go, and the 1xBet app is the perfect fit as the mobile site/app is similar to the desktop version. You can play your favourite casino games anytime and even cash out.
Like the desktop site, you'll start by clicking on 'My Account', where you'll choose 'Withdraw Funds'. You'll find a list of all the withdrawal options with the minimum cashout amount indicated. However, we must say that the mobile app does lag at times.
---
1xBet Withdrawal Customer Support
In case you encounter any of the problems we've talked about before, the 1xBet customer support team is ready to help and is available 24/7. 1xBet has several support channels, including live chat, email, phone and an online form.
The 1xBet customer care India number is 000-800-919-0266/1072, which you can call any time. You'll also be pleased to hear that the live chat option and site are available in Hindi.
---
1xBet Deposit Methods & Process
To withdraw any money from 1xBet, you'll first need to make a deposit, play games and hopefully win some cash. So, we go back to how it all starts: making a deposit. 1xBet has 100 deposit methods, ranging from cryptos and e-wallets to bank transfers.
1xBet is one of the low deposit casinos you'll find for Indian players, as options such as Perfect Money allow deposits of as low as ₹55. Depositing is fast and easy, and below are a few simple steps to get you started.
Sign up or log in to your 1xBet account.
Click on 'Deposit' at the top of the screen and claim any available welcome bonus.
Choose your preferred deposit method and enter the amount and other details.
Click 'Confirm' to initiate your deposit request.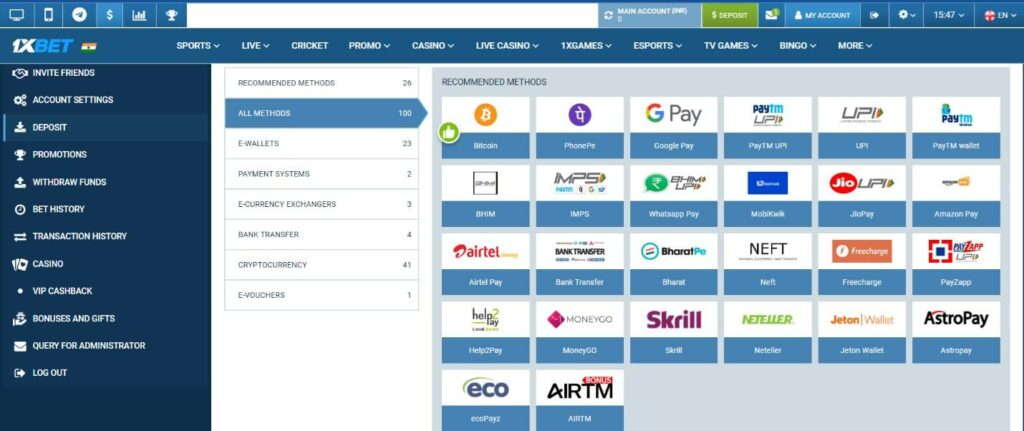 ---
1xBet Withdrawal Time Conclusion
There are many perks to playing at this online casino, and the 1xBet withdrawal time and methods are among them. You'll have over 70 withdrawal options, including popular Indian methods like PhonePe, MobiKwik and UPI, through which you can enjoy fast withdrawals that can take up to 15 minutes! The withdrawal limits are also fair for high-rollers and players on a budget.
As experts on online casinos, our final verdict is that 1xBet withdrawals are nothing but convenient.
---
1xBet Withdrawal FAQs
1. What are the 1xBet withdrawal limits?
The limits will vary depending on the method used, but you can withdraw as little as ₹105 and as much as ₹25,00,000.
2. Are 1xBet withdrawals safe in India?
Yes. 1xBet uses 128-bit SSL encryption to ensure all withdrawals are safe and secure.
3. How long do 1xBet withdrawals take on average?
Withdrawal options like crypto and some e-wallets take 15 minutes to 24 hours, while card and bank transfer payouts can take two to seven days.
4. Are there any fees charged on 1xBet withdrawals?
1xBet doesn't charge any withdrawal fees, but your payment method might.