Expert Parimatch India Withdrawals Guide (2023)
Quick and convenient payment methods often serve as a pivotal factor in the search for an online casino. So, how does Parimatch measure up in this regard?
In this comprehensive Parimatch India withdrawal review, we aim to uncover precisely that. We will take a look at the withdrawal methods available to Indian players, provide a step-by-step guide on making withdrawals, highlight their timeframes, and more!
Play Online Casino Games at Parimatch India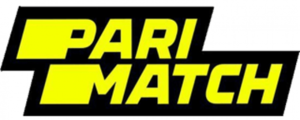 'Welcome Bonus' of up to ₹1,05,000
Speedy dispersal of winnings
Extremely secure
24/7 customer support
---
---
Parimatch India Withdrawal Time
The Parimatch withdrawal time in India fully depends on the payment method you choose. Most withdrawals from online casinos, like Betway and Fun88, usually take a couple of hours to a few days to be completed.
However, since net banking is currently the only available Parimatch withdrawal method in the country, you will have to wait about 72 banking hours for your winnings to be reflected in your bank account.
Note: Due to a technical problem, Indian players can currently only utilise the net banking option for making withdrawals on Parimatch. We reached out to the brand and they assured us that they are actively addressing the matter. Their goal is to broaden the range of payment methods accessible in India. We will update this article when the issue gets resolved.
---
Parimatch Withdrawal Methods Available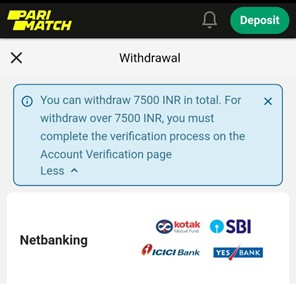 Currently, Indian players can only use net banking to withdraw money from Parimatch. Even though this payment method is not as quick as others (like UPI), it is still preferred by many locals because of the security it ensures.
You can also rest assured that the casino is working to fix this issue and providing players with more Parimatch withdrawal options in the future.
---
Parimatch India Withdrawal Process
The Parimatch India withdrawal process mirrors the simplicity commonly found on other fast withdrawal sites. We will delve into the specific steps involved later on in this article; but before that, let's take a look some Parimatch withdrawal rules regarding account verification you need to be aware of.
How To Verify Your Account at Parimatch
Verifying your account is not necessary if you want to withdraw a sum of less than ₹7,500. However, mandatory account verification applies for withdrawals exceeding ₹7,500.
Here is a step-by-step guide to completing the verification process:
Step 1: Access your profile by clicking the user icon and selecting 'Personal Data'.
Step 2: Proceed to 'Account Verification' and submit a copy of your Aadhaar card.
Step 3: Include a well-lit photo of yourself holding your Aadhaar card (or other ID proof) beside your face.
Commonly requested documents include a copy of your government-issued ID (like an Aadhaar card or passport), proof of address, and a photograph of yourself holding the ID.
Note: Account verification times with Parimatch can vary. Typically, it takes less than 24 hours if all required documents are promptly submitted. Reach out to customer support if there are delays.
Parimatch Withdrawal Problems – What Could Be Slowing My Withdrawal Down?
There could be various reasons for Parimatch withdrawal issues. Below is a list aimed at assisting you in recognising potential withdrawal problems.
Incomplete account verification: Unresolved or incomplete verification processes can hinder withdrawals above ₹7,500. Issues can also arise if the necessary documents are not submitted in the correct format.
Insufficient funds: Make sure that you have enough balance for the requested withdrawal.
Pending bonus requirements: Unfulfilled bonus conditions or wagering requirements could prevent you from making promo-based withdrawals.
Technical glitches: System errors or connectivity issues can disrupt transactions.
Multiple accounts: Having multiple accounts can result in potential policy breaches, which may subsequently lead to a halt in your withdrawals requests.
---
Withdrawing From the Parimatch App
Withdrawing your winnings from the Parimatch app is simple and quick, as highlighted in the guide below:
Step 1: Log into your account.
Step 2: Visit the 'Personal Account' tab on the app.
Step 3: Click on 'Withdraw' from the available options.
Step 4: Select "Netbanking" as the withdrawal method. This is the only withdrawal option available currently.
Step 5: Select the withdrawal amount. For ₹500 to ₹7,500, no account verification is needed. It is only required for withdrawals exceeding ₹7,500.
Step 6: Enter your name and email address linked to your Parimatch account.
Step 7: Choose your bank from the list of available options.
Step 8: You'll be directed to your bank's online portal.
Step 9: Log in to your bank account and input the verification code that you receive.
Step 10: Click 'Pay' to complete the withdrawal process.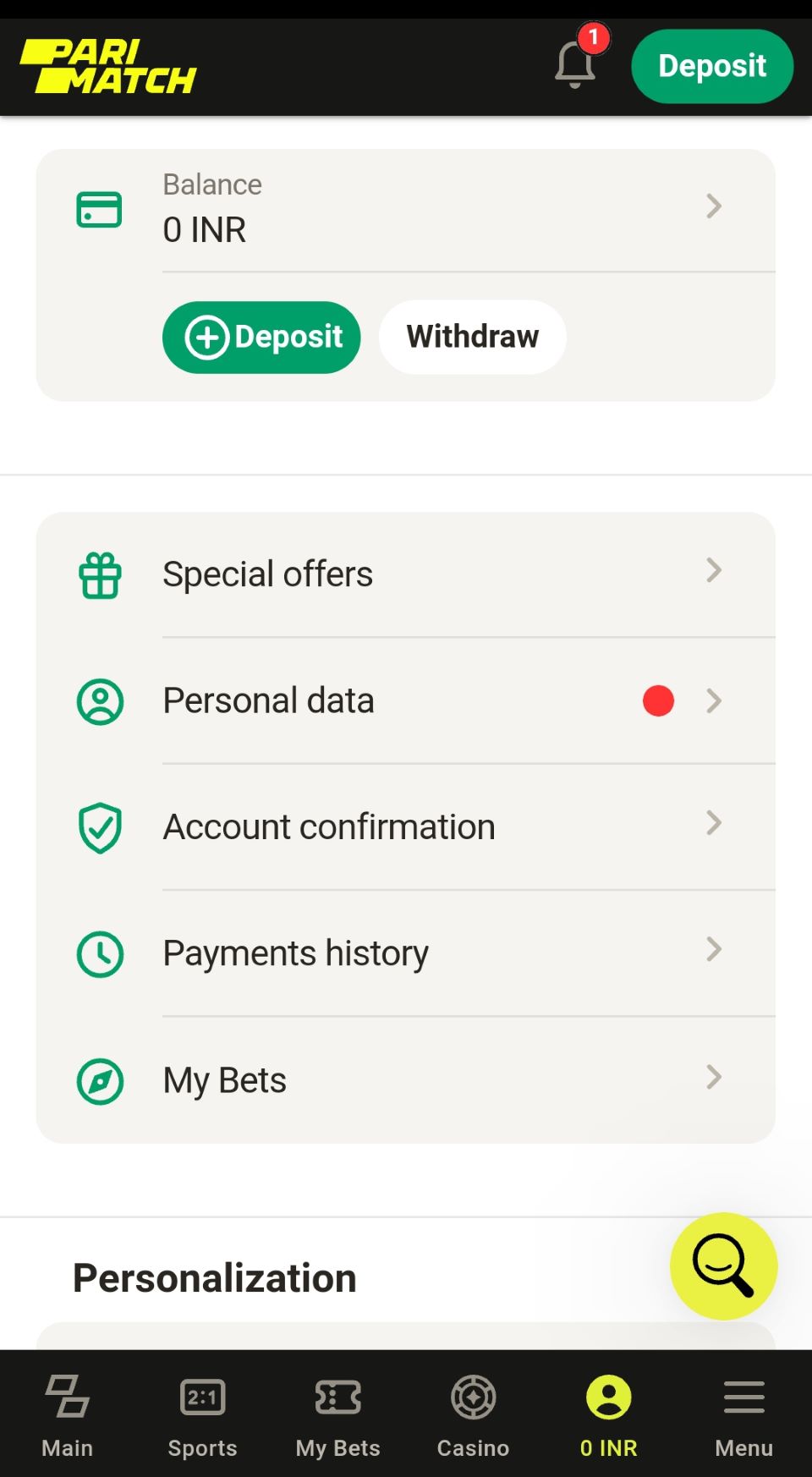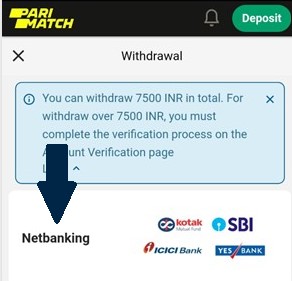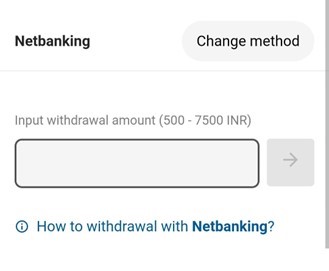 ---
Parimatch India Withdrawal Limits & Charges
When it comes to managing your funds on online casinos, it is essential that you are well aware of the withdrawal limits and potential transaction charges to help you better manage your finances.
Parimatch Withdrawal Limit Per Day
| Parimatch India Minimum Withdrawal | Parimatch India Maximum Withdrawal (without verification) |
| --- | --- |
| ₹500 | ₹7,500 |
It's important to note here that you can make a withdrawal of more than ₹7,500 only if you complete the verification process.
Parimatch Withdrawal Charges & Fees
The betting platform itself does not impose any service fees or charges on withdrawals. However, you should remember that your preferred payment provider might have their own transaction fees.
Before initiating a withdrawal, you should check with your payment provider regarding any potential charges to ensure complete transparency in your transactions.
---
How To Cancel a Parimatch Withdrawal
Cancelling the withdrawal request for whatever reason is possible if you are quick to follow these steps:
Step 1: Log into your Parimatch account.
Step 2: Head to the 'Finances' tab and click on 'Withdraw' to view pending withdrawals.
Step 3: Find and click on 'Tap here to reverse'. This activates the withdrawal cancellation process.
However, this is only possible before the processing of the requested withdrawal amount begins. Once processing starts, you will not be able to cancel a withdrawal.
---
Parimatch India Withdrawals Conclusion
We hope that through this Parimatch review, we have been able to answer the important queries you may have had regarding the withdrawal options at this online casino. Although net banking is the only available Parimatch India withdrawal option, you can rest assured that other methods will promptly be added to give players more diverse options.
In the meantime, don't let the limited payment options deter you from creating an account with Parimatch — it remains among the top-tier and highly secure online casinos available in the market.
---
Parimatch Real Money Withdrawals FAQs
1. What is the Parimatch withdrawal time in India?
Since only net banking is currently available as a withdrawal option for Indian players, it would take about 72 banking hours for a transaction to be completed. Ordinarily, when more options are available, this would be quicker depending on your method of choice. Usually, e-wallets are a fast choice.
2. What is the minimum withdrawal in Parimatch?
You can withdraw a minimum of ₹500 when using net banking as their preferred withdrawal method in Parimatch.
3. Is Parimatch safe for withdrawing?
Parimatch currently only accepts net banking, which is a well known and extremely secure withdrawal option.
4. Can I cancel my withdrawal at Parimatch?
Yes, you can cancel a withdrawal at Parimatch if you go to 'Finances', then choose the 'Withdraw' option and opt to reverse the withdrawal. For full information on this, you can check the relevant section on this article.
5. What payment methods can I use to make a deposit at Parimatch?
Currently, Parimatch only accepts UPI as a payment method to deposit money, and the process takes about 10 minutes to five hours.
Parimatch is one of the most trusted online casinos in the world. It has a valid casino licence from the Curaçao Gaming Control Board, and all its games are tested and approved by eCOGRA — a leading casino games testing agency. This means that Parimatch complies with all the gambling industry regulations and adheres to fair play rules.
---
Similar Reviews