Crazy Time by Evolution Gaming provides a plethora of exciting features that give you an opportunity to play large. In this review, we cover how to play the game, the best strategies to improve your chances of winning, and much more!
---
Top 6 Crazy Time Casinos India in 2023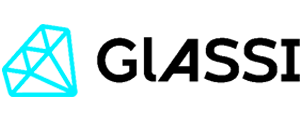 1.
Up to ₹1,05,000 Welcome Bonus
Good selection of game providers
Lucrative bonuses
Decent selection of live casino games

2.
Up to ₹70,000 'Casino Welcome Bonus'
Indian-focused roulette - Hindi roulette offered
Accepts Bitcoin and other cryptocurrencies
Generous promotional offers and bonuses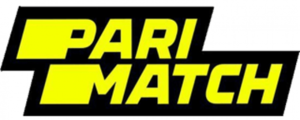 3.
Up to ₹1,05,000 'Welcome Bonus'
Good selection of Indian live casino games
Great mobile app
Hindi version of the website available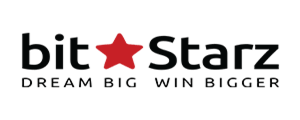 4.
Up to ₹39,000 'Welcome Bonus'
Live Casino and Table Games including Speed Baccarat
2900+ casino games
24/7 customer support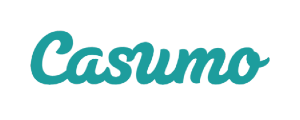 5.
Up to ₹15,000 'Welcome Bonus' + ₹101 daily bonus for the first seven days
A wide variety of live games
No deposit fees
2000+ casino games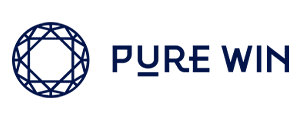 6.
'Welcome Bonus' of up to ₹90,000
Sports welcome offer that permits free bet on Crazy Time
Teen Patti and Andar Bahar available
Great customer support
---
What Is Crazy Time?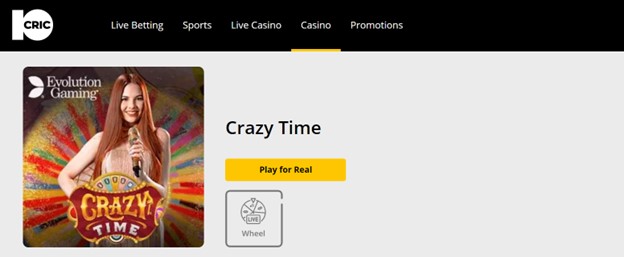 Crazy Time is based on two extremely popular titles by Evolution Gaming – Dream Catcher Money Wheel and Monopoly, with a few extra thrilling twists on top!
The game combines the concept of the money wheel and a standard slot game, giving you the opportunity to gain several multipliers and win massive bonuses. With stunning graphics, interactive gameplay, live bonus rounds, and an advanced Random Number Generator (RNG), you'll be taken to a whole new level of entertainment! Most well renowned online casinos offer this in their live game section, including Glassi.
Find out how it all works in the following sections.
---
Bet Options in Crazy Time
Crazy Time offers eight different bet options for you to choose from. You can bet on the wheel's four numbers – 1, 2, 5, and 10, or on the four bonus games: Cash Hunt, Coin Flip, Pachinko, and Crazy Time.
Here is how the betting segments are distributed across the money wheel:
| | |
| --- | --- |
| Bet Option | No. of Segments |
| 1 | 21 |
| 2 | 13 |
| 5 | 7 |
| 10 | 4 |
| Cash Hunt | 2 |
| Coin Flip | 4 |
| Pachinko | 2 |
| Crazy Time | 1 |
---
How To Play Crazy Time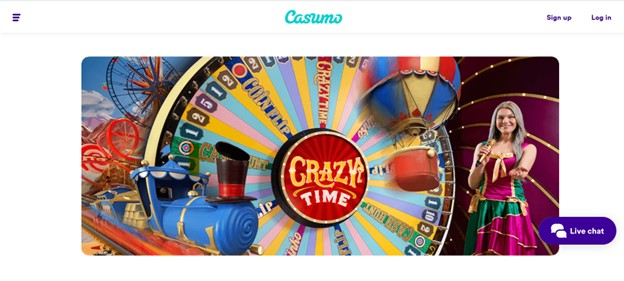 As we have just mentioned above, Crazy Time offers eight different betting options: four numbers and four bonus games. You can either choose to place a single bet on any of the numbers or bonus games, or you could place multiple bets on multiple numbers and bonus games.
You may also click on the 'Bet on all' option, where you can wager on all the numbers along with any one of the bonus games of your choice.
However, you must keep in mind that you only have about 13 seconds to choose a betting option before the game starts.
Once all your bets are in, the host spins the Crazy Time wheel to kick things off.
While the wheel is spinning, the slot on top of the wheel also spins and stops at a betting option and a multiplier (the top slot has two columns – the column on the left has all the betting options, while the column on the right has the multipliers.)
The top slot always picks the betting option and multiplier before the wheel stops spinning. After the latter comes to a halt, a number or bonus game on the wheel is picked.
If you correctly predicted the number on which the wheel has stopped, you will receive a payout of the wagered number multiplied by the betting amount.
Now suppose you bet ₹200 on the number 10, and the top slot stops at 10 with a multiplier of 50x. You will receive a total of ₹10,000 (200×50).
If, however, the top slot does not select 10, but the wheel stops at 10, you will receive ₹2000 (200×10).
And if the wheel stops spinning and the bonus game is picked, you will either participate in the bonus round (if you bet on the correct bonus game) or watch the game go on (if you didn't bet on the correct bonus game). The rules for the bonus games are different, as we will see below.
---
The Different Crazy Time Bonus Games
Besides the four standard number betting options, Crazy Time also offers four bonus games to make things even more thrilling. If you correctly predict the bonus game on which the giant wheel will stop, you get to play this extra round and potentially get in with a chance to land extra winnings!
So, take a look at these four bonus games below.
Cash Hunt
In the Cash Hunt bonus game, you will be shown a digital board with 108 different multipliers randomly placed. These multipliers are subsequently enclosed with a symbol and mixed (shuffled).
After multiple shuffles, you will have to pick a symbol on the board, guessing which multiplier hides behind it. When all the players have chosen their symbols, the real multipliers will be uncovered, and your payout will be based on what multiplier you chose.
Coin Flip
The coin in the Coin Flip bonus game has two sides with red on one side and blue on the other. Before the game starts, every player participating in this bonus round will have to pick a colour.
After every player has picked a colour, the live host moves to a screen showing a red circle and a blue circle. Each of these two circles is allotted a specific multiplier.
After that, the live host presses a button, and the Flip-o-Matic machine flips the coin. If the coin lands on the red side, the players who bet on the red side win the multiplier that was allotted to the red circle on the screen.
For example, if you bet ₹500 on the red side of the coin, and the red circle on the screen was allotted a multiplier of 100x, and the coin landed with the red side on top, you will win a total of ₹50,000 (500 x 100).
Now say, before the bonus round was played, the slot on top of the money wheel landed on Coin Flip with the multiplier of 50x. If you had bet ₹500 on Coin Flip, you will then receive ₹25,00,000 (50x top slot multiplier multiplied by 100x red coin flip multiplier multiplied by the original bet of ₹500.)
Pachinko
Pachinko is played on a large digital board filled with pegs, on top of which you'll see 16 different 'drop zones'. The board decides, randomly, of course, from which of the 16 'drop zones' the puck is to be dropped.
The live host then climbs on top of this board from behind and drops the puck from that 'drop zone'. All this is, of course, done virtually.
The puck then travels through the board, deflecting from peg to peg as it travels to the very bottom of the board. Now, the bottom of the board has 16 different 'landing zones, with each zone allotted a certain multiplier.
When the puck finally lands at the bottom, the multiplier that was allotted to that 'landing zone' is highlighted, and the players are paid out their original bet multiplied by that multiplier.
Crazy Time
This bonus game begins with a giant Crazy Time money wheel, which is divided into 64 segments comprising various multipliers.
You will be asked to pick one of the three flappers attached at the top of the gigantic Crazy Time wheel within 13 seconds. Each flapper has a different colour; green, blue, and yellow.
The wheel is then spun after the host presses a button. After a while, when the wheel stops – and based on whichever multiplier your preferred flapper lands – you will receive winnings equal to your betting stake multiplied by the multiplier coefficient.
For example, if you choose the green flapper, and it lands on a 500x multiplier when the wheel stops, you will receive 500x of whatever your original bet was.
The amazing thing about this bonus game is that your winnings can actually be doubled or even tripled depending on whether the flapper you chose lands on the 'double' or 'triple' segment. This gives you an opportunity to win up to 20,000x your original wager. However, the maximum amount you can win is capped at approximately ₹4,04,82,772.
---
Crazy Time RTP
The RTP (Return to Player) percentage of Crazy Time slightly fluctuates based on the type of bet you choose to place.
The game itself is highly volatile, meaning small but frequent payouts, while large jackpots are very rare.
Here's how the RTP of Crazy Time works:
| | |
| --- | --- |
| Bet Option | RTP |
| 1 | 96.08% |
| 2 | 95.95% |
| 5 | 95.78% |
| 10 | 95.73% |
| Cash Hunt | 95.27% |
| Coin Flip | 95.70% |
| Pachinko | 94.33% |
| Crazy Time | 94.41% |
---
Crazy Time Odds
All eight betting options in Crazy Time have different probabilities of winning and payout odds. The table below shows how the different bet options odds differ from each other:
| | |
| --- | --- |
| Bet Option | Payout Odds |
| 1 | 1:1 |
| 2 | 2:1 |
| 5 | 5:1 |
| 10 | 10:1 |
| Cash Hunt | Up to ₹4,04,82,772 (approx.) |
| Coin Flip | Up to ₹4,04,82,772 (approx.) |
| Pachinko | Up to ₹4,04,82,772 (approx.) |
| Crazy Time | Up to ₹4,04,82,772 (approx.) |
---
Crazy Time Payouts
The minimum betting amount for Crazy Time is ₹8 (approx.), and the maximum sum you can win is ₹4,04,82,772 (approx.).
Payouts obviously vary based on the type of bet placed. For number bets, the odds are 1:1, 2:1, 5:1 and 10:1, as illustrated by the table above.
For bonus games, the multipliers vary with each game type, and there is a chance for you to win the maximum sum of ₹4,04,82,772 (approx.).
There are also top slot multipliers that provide an opportunity for you to receive even larger payouts if you predict the number or bonus game correctly during the initial bet.
One thing to remember is that any payouts you are eligible to receive will be paid by the same payment method that you used to make a deposit.
---
Top 5 Crazy Time Game Strategies
Although there is no specific way with which you can win Crazy Time multiplier bonuses, there are a few strategies that players have used to give themselves a better shot at winning the jackpot.
Ultimately, Crazy Time is a game of chance, but if you study your odds carefully and perform a detailed analysis of the various probabilities that each bet has, you can increase your chances of winning something.
These five strategies will show you how you can do that:
1. Martingale Strategy
The Martingale strategy is used very often by roulette players, and can also be applied to Crazy Time. Basically, what you need to do is double the amount you bet immediately after you lose a bet. By doing this, you increase your chances of recouping your losses when you eventually win. However, as there is no guarantee of winning even with this strategy, make sure that you do not exceed the budget you set aside previously for this game.
2. High-Probability Strategy
This strategy is for players who want to play it safe. Avoid betting on the bonus games and bet only on the numbers – 1, 2, 5 and 10. Although the payout is likely to be lower than what it would be for bonus games, the probability of you winning something is significantly higher. This is because the numbered segments make up 45 of the 54 segments on the money wheel.
3. Low-Risk Strategy
In this strategy, the idea is to spread out the bets and cover as many segments on the money wheel as possible. Simply put, the more segments you cover, the more chances you have of landing a winning number or bonus game. The best way to go about this is by betting on all four numbers (1, 2, 5, and 10) and on any one of the bonus rounds.
4. Bonus Games Exclusivity Strategy
The priority of this strategy is to place bets only on the four bonus games – Cash Hunt, Coin Flip, Pachinko, and Crazy Time Bonus Game. Since each of these rounds has a different number of segments available on the money wheel, the probability of winning is different for each one of them (Cash Hunt and Pachinko have two segments each, Coin Flip has four segments, and Crazy Time has just one).
5. Odds Comparison Strategy
As the name suggests, this strategy is all about analysing the odds and using them to place more calculated bets. Place larger wagers on numbers whose payouts have bigger odds, and a smaller ones on numbers with smaller odds. This way, your potential winnings will be higher if you win, simply because you put forward a larger sum of money for a particular bet.
---
How To Track and Find Crazy Time Results
Crazy Time is streamed in real time from a central location in Riga, Latvia. No matter through which online casino you access the game, all players will be playing at the same time.
The game has an in-built results section, where you can view the last 21 outcomes of the money wheel spins. These results are subsequently uploaded to all casinos that offer Crazy Time.
So, whether you are playing through Glassi Casino, JeetCity, or 10CRIC, the results and the Crazy Time tracker will remain the same.
You can also read about other popular games offered by these casinos in this review.
---
Crazy Time Conclusion
Crazy Time has become one of the most popular live casino games online in a very short period of time. With its myriad features and exciting gameplay, the product speaks for itself. If you want to try it out for yourself, just sign up with any of the casinos that have listed above, and enjoy!
---
Crazy Time FAQs
Crazy Time was developed by Evolution Gaming, one of the most reputable gaming software companies in the industry. The game itself has also been evaluated and approved for fairness by renowned testing agencies.
2. How can I track Crazy Time results?
Crazy Time comes with an in-built tracking section that allows you to track the last 21 outcomes of the money wheel spins. These results are uploaded to any casino site that offers the game. No matter which casino you choose to play Crazy Time from, you will be able to see the past game results on its website.
3. What is the maximum payout you can receive in Crazy Time?
If you are lucky enough, you can win 20,000xs the amount you staked when you made your initial bet. However, the maximum amount you can win is capped at around ₹4,04,82,772.
---
Other Similar Game Articles