Casino players everywhere know of the Deal or No Deal game show. Now, thanks to Evolution Gaming, you can enjoy the excitement of itfrom the comfort of your own home – and with better odds than on television!
In this Deal or No Deal review, we'll explain everything – from how to play the game to what bonuses are available. So, whether you're a seasoned pro or a complete novice, read on for all the information you need to take advantage of this thrilling new casino game.
---
Where To Play: Top 10 Live Deal or No Deal Online Casinos in India
---
Background of the Game

First released in 2019, Live Deal or No Deal is one of the most popular titles ever created by Evolution Gaming, this time in collaboration with Endemol Shine Group – the creators of the original UK game show the game is based on.
Here, contestants are given a choice to either accept a cash prize offered by the banker or to gamble on a possibly larger prize by continuing to play.
About Evolution Gaming
This Swedish software giant is one of the world's leading providers of live casino solutions, having been at the forefront of the industry since its inception in 2006. Today, Evolution Gaming offer the most comprehensive and innovative portfolio of products and services on the market.
---
Online Deal or No Deal Game Details
| | |
| --- | --- |
| Software Provider | Evolution Gaming |
| RTP | 95.42% |
| Maximum Payout Multiplier | 500x |
| Minimum Bet | ₹10 |
| Maximum Bet | ₹4,50,000 |
| Multipliers | Yes |
---
How To Play Deal or No Deal Live – The Rules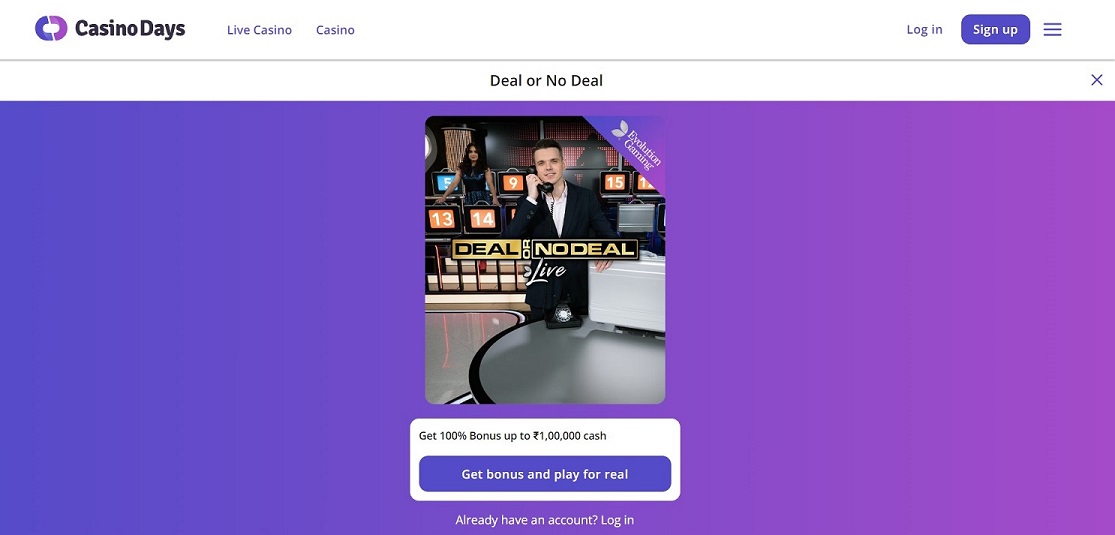 There are three Live Deal or No Deal rounds in which all the players must participate. The aim for every player is to qualify for the final round (Main Game) and hope for a maximum of 500x payout. Let's dive into what you need to do in order to reach that stage.
Qualification Round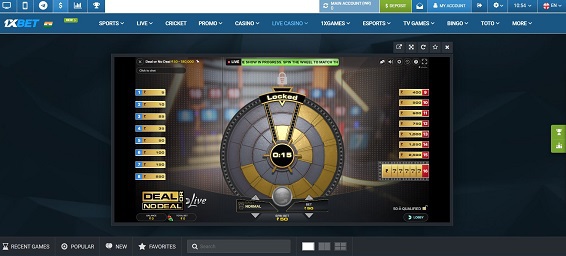 Your first objective is to qualify for the Main Game show. In the Qualifying round, what you have to do is place your bets on a rotating wheel consisting of three inner layers.
Each layer has grey and gold segments. There are 13 gold segments (boxes) and 23 grey segments on the wheel. You qualify for the next round if the three gold segments align in each layer (in a row) on the top of the rotating wheel.
You could choose from three difficulty settings – Very Easy, Easy and Normal. The Very Easy setting gives you the best chance to qualify for the next round, followed by Easy and Normal, respectively.
However, choosing the Very Easy and Easy difficulty levels automatically increases your bet amount per spin.
You have about a minute and a half to keep spinning the wheel and hope that three gold segments align in each layer on the top of the wheel. This could take a few tries. So, you've got to be patient. Upon qualification, however, you move on to the Top-Up Round.
Top-Up Round
In the Top-Up Round, you basically have another minute and a half to place bets on 16 briefcases (numbered from 1-16) that are part of the Main Game. You can place bets (or top up) on one or more briefcases; the more briefcases you top up, the higher the chance of you winning a sizable payout when the game ends.
Main Game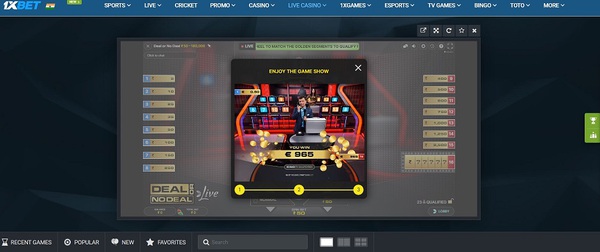 In the Main Game, the briefcases you placed bets on (or topped up) begin to open in batches.
After the briefcases open up, the live host (or banker) announces a sum and asks all the contestants in the Main Game if they wish to accept that sum or continue betting (prompting the question 'Deal or No Deal?').
If you choose to keep a briefcase, then the banker will offer you a deal – this is where you must decide whether to take the money on offer or gamble for more.
If you choose not to keep a briefcase, then it is automatically put back into play, and other players can try to win it.
The game ends when all but one player has either accepted a deal or been eliminated from play. That player then gets to see what was inside the last case they chose not to keep or win the prize money inside the briefcase they kept.
---
Live Deal or No Deal RTP & Payouts
The RTP for Evolution Gaming's Deal or No Deal Live is 95.42%. This means that the house edge for this game is 4.58%, which is higher than similar casino games like Lightning Roulette and Monopoly Live. This is, of course, just the average, and the actual payouts vary depending on the outcome of the game.
Now, how much prize money you receive in the end depends on the decisions you make during the Main Game. However, each briefcase has a certain multiplier attached to it, and your prize money will be calculated based on these multipliers. The table below shows which briefcase has what multiplier:
| | |
| --- | --- |
| Briefcase Number | Payout Multiplier |
| 16 | 65x – 500x |
| 15 | 50x |
| 14 | 25x |
| 13 | 20x |
| 12 | 15x |
| 11 | 12x |
| 10 | 10x |
| 9 | 8x |
| 8 | 5x |
| 7 | 3x |
| 6 | 2x |
| 5 | 1x |
| 4 | 0.7x |
| 3 | 0.5x |
| 2 | 0.2x |
| 1 | 0.1x |
As you can see, every briefcase has a different multiplier, so you have to plan your bets on each briefcase in a manner that best suits your budget and your winning payout chances.
---
Live Deal or No Deal India Strategies
Live Deal or No Deal is ultimately a game of chance, and there is no particular strategy that guarantees you winning the final round with a 65x – 500x multiplier. But you can make calculated decisions during the game to ensure that you leave with more than you came in with. Here are a few strategies to help you do that:
Deal or No Deal – Helpful Strategies
💡Having a target prize money amount in mind will help keep you motivated, so once you reach it – stop betting. 
💡 Accept any offer the banker makes that is two times or more your wager. 
💡 Play it safe in the qualification round by sticking to the Normal or Easy difficulty level. If you choose the Very Easy level, your betting amount will increase nine times your original wager.
💡 The Top-Up round is your best chance of maximising your winnings, so place your bets wisely after considering your budget. Spread your bets evenly among all briefcases instead of placing a big wager on one or two.
💡 Note down how much you bet on each briefcase. This will come in handy when the live host asks you whether you wish to make a deal with them or not. If you do not remember how much you bet on a particular briefcase, you will not be able to get the best deal for yourself as you only have 10 seconds to respond to the live host's deal.
---
Live Deal or No Deal Game App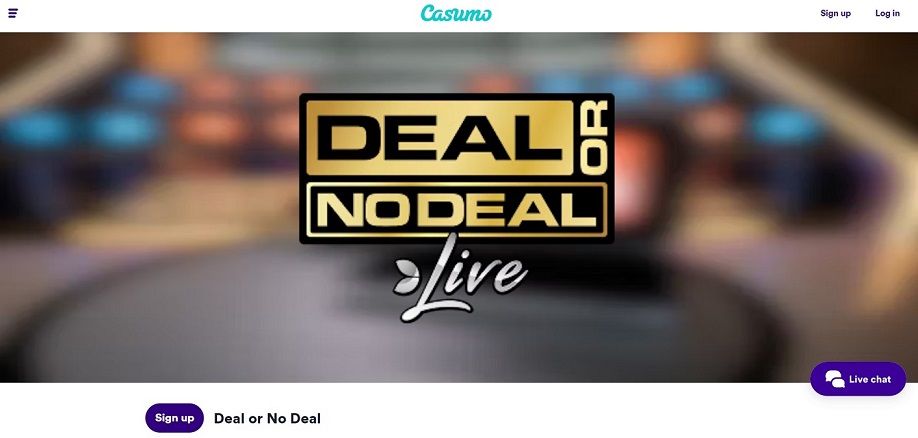 Live Deal or No Deal India does not exclusively have a mobile app currently. However, you can play the game on any online casino that has an app like 10CRIC, Parimatch or Casumo.
With these mobile apps, you get all the benefits of the website version, including bonuses. All you need to do is download the mobile app of the casino of your choice, deposit a sum, fire up the Live Deal or No Deal India game and start playing.
---
Live Deal or No Deal India: Pros & Cons
Live Deal or No Deal India is a thrilling and engaging game. There are many positives to this game, but some of the features could have been better. Let's look at both the pros and cons of Live Deal or No Deal India:
Pros ✅

Almost like-for-like adaptation of the original game show
Interactive gameplay
Minimum betting amount is very low (₹10)
Stunning visuals
Game is approved by eCOGRA

Cons ❌

The qualification round can be a drag
Payouts could be larger
No dedicated mobile app
---
Live Deal or No Deal India Alternatives
There are hundreds of other engaging live dealer games available at online casinos. If you're looking for some alternatives to Live Deal or No Deal India, you can try out these games too:
First Person Deal or No Deal India
Evolution Gaming has also introduced the First Person Deal or No Deal game to complement the live version of the game. This title is beautifully animated to imitate the real live studio of its predecessor, giving it an authentic feeling.
The main difference, of course, is that the game is not live and there isn't a live host offering you 'Deal or No Deal?' Another difference is that there is no time limit to place your bets in this version of the game. Plus, you can choose which briefcases you want to be opened first.
The rest of the game, along with the betting options, multipliers and RTP are the same as the live version.
Lightning Roulette
With an RTP of 97.3%, Lightning Roulette by Evolution Gaming combines the excitement of roulette and lottery with the thrill of playing against other players.
The objective is to predict where the ball will end up after it is spun around the wheel. You can bet on a range of different outcomes, including red or black, odd or even, and numbers 1-36.
The game also features a Lightning Bonus which can be triggered randomly at any time. If activated, all players are given a chance to win big prizes up to 500x multiplier by predicting which number the ball will land on.
Crazy Time
If you are on the lookout for an online casino game that is certain to get your heart racing, then you must try out Crazy Time by Evolution Gaming. It can best be described as a cross between Dream Catcher Money Wheel and an online slot game.
There are four main bonus rounds in Crazy Time: Coin Flip, Pachinko, Cash Hunt, and Crazy Time. The outcomes of the game are determined by a random number generator, and they are displayed on screen using vibrant 3D graphics.
The RTP of Crazy Time is around 95%, but that is just the average. If you get lucky in the Crazy Time bonus round, you could win up to 20,000x your original bet.
Monopoly Live
The objective of Evolution Gaming's Monopoly Live remains the same as roulette – predict where the ball will land on the spinning wheel.
However, instead of a traditional roulette wheel, Monopoly Live uses a 'Money Wheel'. The Money Wheel is divided into 54 segments, with each segment corresponding to a different prize.
Once all bets are in, the live host will spin the wheel and drop the ball into it. The ball will eventually come to a halt in one of the 54 segments. Depending on your bet option and the outcome of the spin, you will receive your prize money. The RTP of the game is 96.23%.
---
Conclusion
Now that you have a better idea of how to play Live Deal or No Deal India and know what strategies to use to get better results, pick out any online casino we have mentioned in this blog, create an account and start playing. We hope this review has given you all the information you need to enjoy the game to its fullest and maybe even come out on top! Good Luck!
---
FAQs